Saftote has advised that the final Meydan Place Accumulator and Jackpot dividends for Saturday's meeting are '100% correct'.
Phumelela Sports Betting Executive Vee Moodley says, however, that the query raised by SP reader Dave Sandes is a valid one.
"The query raised is a valid one but the display and the final pool totals for both bet types were overstated by a technological glitch in the system. The carry-over amounts for the mentioned bet types were duplicated. We did encounter similar issues previously and our International hub, where the Pools are hosted thought that the issue was rectified. That was obviously not the case, given that it has now resurfaced. I am awaiting their input so that I can issue an official press release by Monday."
Mr Moodley has apologized sincerely for all the 'confusion' that this has caused.
‹ Previous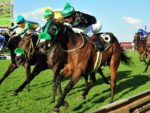 Mrs O Strikes Gold