Monks Hood, the brilliant winner of the Gr2 Gauteng Guineas ten days ago and winner too of the Gr2 Dingaans, is in the process of being sold to a Hong Kong owner.
A lot of the necessary veterinary tests and red tape procedures have already been finalised for the Wilgerbosdrift Stud-owned Querari gelding, but the sale has not yet been finalised by the pending new owner.
Trainer Alistair Gordon said, "It is a hard one to lose a horse of this calibre, but every horse has its price."
Hong Kong is one of the few countries in the world where average stakes returns per horse is more than the average cost of ownership, so Monks Hood will have a good chance of recouping his cost price.
The process for the next overseas shipment from the Kenilworth quarantine station is expected to start in June, depending on the numbers. If it does go ahead, Monks Hood can only expect to reach Hong Kong by the end of November after the arduous journey via Mauritius and Europe.
-www.goldcircle.co.za
.
‹ Previous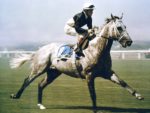 Blue, White and The Big Grey