Are the NHA protecting punters – and horses?
The 6yo Impressionist had his 56th start at Fairview on Friday. The Vet reports that he went down short and not striding out in front.
Then the Stipes reported after the race that in view of his run (9,95 lengths back) the Course Veterinary Surgeon was requested to examine him.
Just 72 hours later Impressionist is back for his 57th start – this time on the Fairview poly.
Now apprentice Lyle Hewitson reports that he felt something amiss with the gelding in the running. He finishes 13 lengths back.
The Course Veterinary Surgeon (the same as Friday) was requested to examine and reports that Impressionist was not striding out in front.
Should Impressionist have even be allowed to run on Monday?
So where to from here?
Read more Short Heads snippets – click on the iimage below

‹ Previous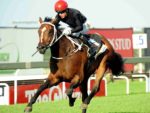 Querari Star For Hong Kong