Friday, 9 March 2018 saw Ernst Oertel and 4th year SAJA apprentice Liam Tarentaal team up to win the School Transport Services 1400m handicap on dirt at Jebel Ali.
Tarentaal rode a confident race to get Khalid Khalifa Al Nabooda's 6yo Desert Party gelding, Epsilon, over the line by a decisive 4 lengths in a time of 1 min 25.93.
It was the second international victory for Tarentaal, who has been in Dubai since late last year after taking up the opportunity to ride for Grandstand Stables' Ali Rashid al Rayhi.
Al Rayhi was specifically looking for a capable, light-weight claiming apprentice to join his yard and nineteen-year-old Liam fitted the bill perfectly, being able to ride at 50kg and with a solid 18 SA winners to his credit.
Liam's first win came on Saturday,  20 January, aboard the Rashed Bouresly-trained Murrayfield, in the Harley-Davidson Northern Emirates Handicap at Meydan.  Liam described it as an incredible experience and one he will always remember for the roar of the crowd from a packed Meydan Racecourse.
Friday's win was an all South African effort, as it came for Ernst Oertel, who has been plying his trade successfully in the UAE since 2012.
Securing a ride for the Dubai World Cup meeting is Liam's ultimate goal, saying "I'm trying really hard to get a ride for World Cup Night as it will be the biggest racemeeting of my life!"
Liam is due back in South Africa at the end of March.
Watch the replay below.
‹ Previous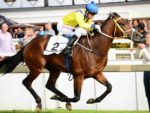 Super Saturday Time!