There is a lot of provenance to Lot 467, who will face the auctioneer on the final day of the 2018 National Yearling Sales.
A chestnut colt by Duke Of Marmalade out of Lisa Anne, The Sandwich Man is not only the half-brother to 2018 Triple Tiara winner-in-waiting, Takingthepeace, but dam Lisa Anne and the story of her breeding syndicate is almost as good as the one of Murray Makepeace, Kevin Shea and Mathew de Kock that has lit up the Highveld season this year.
It starts around the table at Hartford House during Summerhill's wonderful Winter School class of 2014. Syndicate member Dr Alan Miller is a patron of the Summerhill School of Excellence, but probably better known to racing fans as a partner in the SA-bred race mare Crimson Palace under the Team Valor banner. Crimson Palace was the very first horse he ever bought into and, as she'd given him so much fun, Dr Miller and his wife recently gave Crimson a retirement home on their farm in upstate New York.
He tells the story of how the syndicate got together. "I am good friends with Leonard Strong from South Africa and we talked with Mick about getting a piece of several horses together. I already owned one with Mick in the form of Autumn Mist. At the winter school several lecturers were Andrew Harding from Hong Kong and Barley Ward Thomas from Darley Australia. I approached Andrew's wife Vanessa and Barley about joining our syndicate. They agreed. The wine kept flowing and suddenly Kiki And Karel Miedema were in as well as Nchaka Moloi and Leonard Smith. We invested in pieces of 5 horses including Lisa Anne-approx 40%, Larny Lady, Bindella, Chechetti, and Nkandla." The syndicate, which includes an international line-up of members from Hong Kong, Australia, SA and the US, was named Gjima Mange which means 'run fast' in Zulu.
Whichever deity presides over these things was obviously in a generous mood that day. Lisa Anne was in foal to Visionaire at the time and that foal turned out to be a filly they named Sagano. History relates that after purchasing her on the 2016 Ready To Run sale – and protracted negotiations – the new owners renamed the filly Takingthepeace.
Because of the name change, Dr Miller was not aware that their 'friendship filly' had won the Gauteng Fillies Guineas until Leonard Strong communicated the news. "I cannot tell you how exciting this venture has become. I have had great luck with Team Valor racing Ebony Flyer, Captains Lover, On Her Toes, Crimson Palace and am now heavily into breeding in South Africa both with Team Valor and with Summerhill. I am incredibly blessed with luck as well as the friendships I have made all over the world associated with my love of racing."
Lisa Anne's Duke Of Marmalade colt goes under the hammer on Thursday, 26 April 2018 and she is currently in foal to Willow Magic. "Obviously a mating with Visionaire again is likely in the future," says Alan happily.
By the way," he mentions in closing, "I have nicknamed Crimson Palace "Pig Pen" as I have never seen a horse enjoy rolling in the mud as much as her."
Here's wishing the connections of Takingthepeace – and The Sandwich Man – just as much fun.
‹ Previous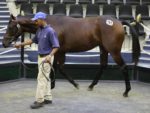 Varsfontein Colt Sets The New Standard