On Saturday, 7 April 2018, SA Champion Jockey Anthony Delpech suffered a fall from Majestic Mambo in the Gr1 SA Classic at Turffontein.
He was admitted to Milpark Hospital for tests and overnight observation.
Following the overwhelming number of phone calls, message and enquiries, the Delpech family issued the following statement via Anthony's agent, Deez Dyanand on Sunday, 8 April 2018.
"The concern, support and care for Anthony has been overwhelming and on behalf of Bonji, Candice and his family, thanks to all for their messages and phone calls – greatly appreciated. Whilst his x-rays are clear, he's under observation due to pain in his legs and arms. Once the status of his condition is fully determined, I will update the media accordingly. Again, thank you, racing fans."
We send Anthony and his family our best wishes.
‹ Previous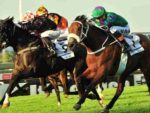 Peace For President!