Phumelela's media division is investigating the feasibility of providing horseracing fields in a newspaper format to TAB and Betting World customers in the Western Cape following the Cape Times arbitrarily dropping its horseracing page several times in the last fortnight.

Phumelela manages horseracing in the region on behalf of Kenilworth Racing.
The Cape Times, in contravention of a long-standing agreement between Gold Circle and Independent Media, dropped its horseracing page on 26 March and again on 4, 10 and 11 April.
Gold Circle, the horseracing and tote betting operator in KwaZulu-Natal, has lodged a complaint with the Cape Times and is awaiting a response.
‹ Previous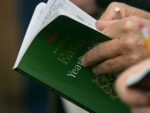 Inglis Easter Sizzler