In his speech at the 2013 Asian Racing Conference, Les Carlyon said, "The horse is everything in our world and we should never forget it. Take away the horse, take away those who look after him, and you've just got gambling, and no-one makes heroes of those who hang around casino tables or betting shops."
It is a wonderful quote and one well worth remembering. Well, the horse and those who look after him had a good day at the office at Kimberley on Monday, 26 March 2018 when Eagle's Legacy romped home to his maiden victory under Denis Schwarz, for delighted connections Mr & Mrs Johan Juselius and trainer Corrie Lensley.
Denis 'Jackpot' Schwarz, who still claims 1.5kgs, has had luck in Kimberley, riding a double for the Lensley yard back in January and had to go wide to get a run at the 300m, but once he saw daylight, it was a matter of by how far and they beat the field home by 4 lengths.
The little horse, that according to trainer Lensley is all heart, but 'weighs 280kgs' wringing wet, comes with one of those improbable 'against all odds' stories of luck, tenacity and a touch of the absurd that keeps the racing dream alive.
Where it started
Husband and wife team Johan and Cate Juselius moved to the Midlands with the intention of retiring. They bought a farm with self-catering accommodation, but as the farm came with tunnels, they decided to try their hand at farming and are now more or less un-retired!
Johan did a bit of 3-phase eventing in his youth and says, "I've always been involved with horses in one way or another, whether it's a syndicate or so on. I've not had much success," he admits, "but I've never really paid it much attention. I think this has really only been successful because I persevered at my wife's insistence."
Hearing that a stud farm had folded and all the stock was for sale, Johan and some partners decided to drive out and take a look and ended up buying a group of weanlings as pinhooking prospects. They were told there was another colt that had already been taken to the Horse Care Unit, but none of the partners were interested.
However, her interest piqued, Cate said she was keen to take a look. "I went to the Horse Care Unit to look at him. He was 4 months old at the time. He came over to me, put his head on my shoulder and I just fell in love."
The little colt, christened 'Legs' because of his matchstick pins, joined the group of weanlings on a spelling farm in the Midlands to do a bit of growing up. When it came time to decide what to do with them, the partners chose to offer the original group on the yearling sales. "Nobody wanted to include Legs," remembers Johan. "He looked miserable, was much smaller than all the others, his conformation wasn't as good as the rest and the partners said they were not going to carry the additional expense. My wife said well she's carrying on and sent him to Cathy Walder on the North Coast."
Specialist TLC
In the truck en route to Cathy's place, Legs managed to fracture his shoulder and arrived on the other end in a bit of a sorry state. Johan wanted to put him down, but Cate begged for time and Cathy went to work. The little colt needed 6 months box rest to allow the shoulder to heal.
While intensive medical treatment started healing his body, his mind was getting very bored – and boredom and colts are never a great combination. Cathy admits that he was a handful and none of the grooms were keen on working with him, so in desperation, she gave him a ball to keep keep him entertained. One day, fortunately towards the end of his rehab, Legs managed to escape from his stable and went tearing around the property. As he was running around, Cathy noticed that he was sound!
To start getting him used to physical activity as well as trying to keep his busy mind occupied, Cathy taught the colt to play soccer with his favourite toy. "He could dribble the ball with his nose and flick it in the air. I dedicated one of my grooms, Philani Zungu, to him and all he had to do was play soccer with him all day. They both loved it – and what better way to build up his fitness, strength and agility, without tedious hand walking?"
From soccer, the colt slowly progressed to slow walks up the sugar fields , working up the gradients and he stayed sound. After three months of walking up and down the hill, he was ready to progress to Jill Fox for backing. Johan admits he did not think the young colt would stand up to the backing process, but he managed just fine. Jill confirms, "He was a bit light and he had these thin little legs, but it was never an issue. When they asked where they should send him, I recommended Paul Gadsby, because his wife Beth is so good with horses that need a bit of TLC – we all love Beth dearly."
Paul and Beth went to see the colt at The Fort Stud. "The other horses had all been registered with the NHA, this one wasn't, because they originally thought he'd never race. He had the thinnest legs you've ever seen. But we took him into training about 6 months later. Cathy went to visit her old friend at the Gadsby yard and Legs came over expecting his toy – the Gadsby's were amazed to see their charge's ball skills!
Realistic expectations
Paul confirms that while Legs is not going to trouble the judges at the end of the July, he showed that he could win a race – "and that's all the owners wanted – just to win a race. He's not going to be a great horse, but I said he's definitely got a win in him."
"We showed Kevin Shea pictures of him. He said he's not got good conformation and wouldn't be able to do this or that, but it only made us more determined," says Cate firmly.
Beginner's luck
Because of the horse's somewhat patchy history, Johan is registered as Eagle Legacy's breeder ("it should be 'sucker'", he jokes). "It's my wife's first racehorse and he runs in her colours."
Cate says, "I wanted royal blue, but when I went through all the colours and what was available and what wasn't, this is what was available. Everyone said 'oh, that's a good choice, they're the Oppenheimer colours and they're always winning!"
Cate also gave the colt his racing name. "His sire is Soar With Eagles and his dam is Belle Sorciere. I wanted to call him Eagle's Spirit, but that was taken. Johan nicknamed him Legs and is always referring to him as 'your bloody horse!', but as he'd been nicknamed Legs, my daughter came up with the name Legacy."
Kimberley
After a decidedly ordinary first run, he finished 5th on his second attempt and Paul recommended trying him in Kimberley. "He works well on the sand and I've sent a few horses up there and they've done really well, so I phoned Corrie Lensley. I'm just happy it's worked out so well for the owners."
Johan says, "We thought it was supposed to be a weaker centre, but it's very competitive. When racing was abandoned last week, I was a bit disappointed because Muzi had been nominated to ride him. But Denis Schwarz did such a good job last time and after Monday, I don't want anyone else to ride him! This hasn't been a profitable exercise, mind you – I get the accounts, my wife gets the winnings – but he's filled out well and matured quite nicely. I think he's still going to show us a bit."
Unfortunately the Juselius' weren't there to lead there horse in. Johan says, "Funny enough, the day before I took the truck round to the market to offload produce and was sitting fiddling with my phone while the truck was offloaded. At about 5 in the afternoon, a message came through from Corrie that our horse was running in 15 minutes. Unfortunately I couldn't watch, but I phoned my wife and told her to watch and phone me when it was all over and tell me what happened and that was it."
Watching the race, Cate says she had a feeling he might come good this week. "In his last race he ran 3rd and when I heard he was running, I put the TV on. I've never felt so euphoric when he won. I couldn't believe he won by 4 lengths – it's ridiculous! My heart was racing and palpitating!"
Cathy, who has proudly posted 'Legs' winning pic as her new profile pic on Facebook was equally thrilled and reflecting on the long and eventful journey that led to the winner's enclosure last Monday, she enthuses, "We call him the Seabiscuit of KZN!"
Future Plans
The immediate plans are to leave the horse with Corrie as long as he keeps performing. "There's no particular rush," continues Johan. "One of my daughters is looking for a horse, so I said if she can hang on to the end of his racing career, she can have him. She's getting married in May, and we decided if he hadn't done anything by then, the plan was to give him to her when she gets back from abroad, but after Monday, I don't think she'll have him for a little while yet!"
I think it was also Carlyon who said, "Racehorse owners are different. Most of them have an engineer's sense of precision, a mind that gravitates towards the objective and the rational. They like to bring order and reason to complex matters. Horse people are seldom like that. We can be rational and pragmatic too, but we tend to rank those things behind matters of the heart."
Ah yes, horses and people. All the rest is dross.
‹ Previous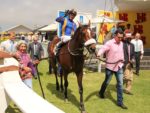 David Makes Good Start