Davy Russell, the oldest jockey in the race, capped a magnificent riding career when he rode Tiger Roll, one of the most accomplished little horses of the last few years, to a dramatic last- gasp victory in the 171st Randox Health Grand National at Aintree on Saturday.
In a race watched by over 600 million television viewers worldwide, Tiger Roll stayed out of trouble – and there was plenty of it, with many of us wondering if we really needed to be watching.
Tiger Roll was a second National winner in three years for Michael O'Leary, Ryanair's chief executive, and a second for trainer Gordon Elliott who won it with Silver Birch in 2007 before he had ever saddled a winner in Ireland.
The race was shown live on Tellytrack but there were complaints from various punters that Saftote was not functioning properly. We have not been able to ascertain what the nature of the problems were.
There were also a few negative comments about the race on our Facebook page and thankfully 37 of the 38 starters were safely in their stables last night, although 26 did not finish:
Perfect Candidate – fell at the 1st
Blaklion – brought down at the 1st
I Just Know – fell at the 6th
Houblon des Obeaux – fell at the 6th
Virgilio – fell at the 6th
Captain Redbeard – fell at the 7th
Buywise – unseated rider at the 8th
Lord Windermere – unseated rider at the 8th
Final Nudge – fell at the 8th
Chase The Spud – pulled up before the 15th
Alpha Des Obeaux – fell at the 15th
Saint Are – brought down at the 15th
Delusionofgrandeur – pulled up before the 17th
Maggio – pulled up before the 18th
The Dutchman – unseated rider at the 23rd
Thunder and Roses – pulled up before the 26th
Ucello Conti – unseated rider at the 26th
The Last Samurai – pulled up before the 27th
Tenor Nivernais – pulled up before the 27th
Shantou Flyer – pulled up before the 27th
Total Recall – pulled up before the 29th
Warriors Tale – pulled up before the 29th
Pendra – pulled up before the 30th
Double Ross – pulled up before the 30th
Carlingford Lough -pulled up after the last
Childrens List – pulled up after the last
‹ Previous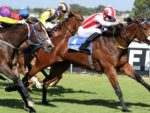 Bond Can Repay Fans