Sunday, 22 April sees the 2018 Kenya Derby race meeting at Ng'ong Racecourse in Nairobi where South Africa will be represented by popular lightweight rider Francois Herholdt.
Fransie has four rides on the day's card, including the day's headline feature aboard the Summerhill-bred Free Wheeler for Michael and Sarah Spencer.
Royal Racing
The Spencers are from the British Royal Family, adding a touch of prestige to the day's event.  Michael, the founder and Chief Executive of NEX Group plc spent some of his early life in Ethiopia.  Some years ago Michael and Sarah decided to return to Africa and created a beautiful contemporary East African home, Sirai House, on the Borana Conservancy at the foothills of Mount Kenya.
Michael and Sarah also own a stud farm that breeds strong, tough and hardy safari horses.  Although they primarily cross Boerperd and Friesian horses, they wanted to add a little more scope and decided to supplement the breeding programme with Thoroughbred blood – and at the same time become involved in Kenyan Racing.
An introduction to Mick Goss led to the purchase of three horses from Summerhill's Ready To Run sale in February 2017 comprising Free Wheeler (Traffic Guard – Opera Diva), White Dragon (formerly known as Manyana) by Await The Dawn out of Spanish Wisdom and Soho Mouse (formerly known as Night Vigil) by Await The Dawn out of Maphiko.
All three are featured on Sunday's card with both Free Wheeler (Fransie Herholdt) and White Dragon (to be ridden by Lesley Sercombe) lining up for the Derby and Soho Mouse in the Shell Fuelsave Handicap.
Have Saddle, Will Travel
Fransie explains that he often helps Mick Goss gallop horses at the Summerhill Ready To Run sales.  "He rang me up and said they were looking for some riders for the race day in Kenya and asked whether I'd like to go.  I've watched Ngong racing, but have never ridden there, so I thought it would be a good opportunity to see a different part of the world and see their racing."
It will be a flying visit for one of SA's hardest working and hardest travelling jockeys.  Fransie boards a plane at midday on Saturday, 21 April and should touch down on Kenyan soil at around 4pm on Saturday afternoon.
He has four riding engagements on Sunday's card, but as he already has riding commitments in South Africa for next week, will be boarding a plane straight after races.  With his flight scheduled to land in Johannesburg at midnight on Sunday, there will just be time to grab a few hours' sleep before catching the 4:30am bus to Kimberley on Monday morning.
High Hopes
South African horses – and riders – have a good record in the Kenya Derby with S'manga Khumalo being victorious on the South African-bred Lazin in 2011, Robert Khathi winning aboard the SA-bred Happy Times in 2015 and Hennie Greyling on Hawker Fury (SAF) in 2017.
Prospects are looking good for this weekend's event as both Free Wheeler and White Dragon (winner of the Kenya Guineas in January) are unbeaten to date and go into the Derby with high hopes.
We wish Fransie a successful trip.
Preview
For those who are unfamiliar with Kenyan form, we have collected some information on Sunday's runners below (with thanks to both Tom Fraser and Venetia Phillipps for their contributions).
An interesting looking race with class all over.
BULAWAYO has come into his own with a strong showing last time out over 1800m, but was found out over longer by two of his Derby challengers, HARBOUR BAY and CLOTHES HORSE.
CLOTHES HORSE is a formidable opponent and will look to ruffle more illustrious stable companions. This colt will be ridden by Richard Kibet, who was Kenya's Champion Jockey last year.  He knows the horse well and will give a good account of himself.  Clothes Horse will like the softer going and will not get stuck in the mud. In the soft conditions, he is working well and he will be giving the favourites a run for their money.
FREE WHEELER is one of two very good horses owned by the Spencers.  He is undefeated and has accounted for some of the best horses in the country. Likely to be favourite.  He faces unbeaten stable companion WHITE DRAGON for the first time, and the race should produce a clash of the Titans but FREE WHEELER is expected to prevail if he stays the trip.
HARBOUR BAY has staked his claim for a place here with two wins on the trot and accounting for CLOTHES HORSE in his last win, will be in the mix.
NAVY SEAL is a classy sort. He will be ridden by the other visiting jockey from South Africa – Lance Pagel who will be up for the race day. Navy Seal is a very naughty and "colty" horse who will be first load and loaded with a blind fold. He is a tall, strong horse. After his last race he was "blowing" a bit but now he is in tip top condition and ready to go. Lance knows the track and he will be instructed to settle Navy Seal and to save him for a run in the straight in order for him to get the distance.  Fell to BULAWAYO in last outing, but cannot be ruled out.
OMAHA BEACH has only won once before and might find the competition too strong.
PHAROAH'S ADVOCATE after a bright start to his career has been found out twice, but is a class horse and will feature.  James Muhindi, another experienced former champion jockey, will be taking the ride on this nice colt.  He is a bit of a baby by comparison to the others but he has a great stride and really did not get a chance to use his action in the Derby Trial last time out.  He has earned his right to compete in the Derby and we expect to see him do well from the front. The soft conditions should not deter him.
WHITE DRAGON is the second colt belonging to Sarah Spencer.  He will be ridden by Lesley Sercombe. White Dragon won the Kenya Guineas back in January and like Free Wheeler, is unbeaten. He is a lovely looking colt with a great temperament.  Will be the main danger to FREE WHEELER, but it is a horse race and the other entries are not without a chance!!
WINTER COMET had two strong outings before a mundane last outing but is capable of mixing it with the best.
Please click below for the full race card.
Ngong Race Card – 22 April 2018
‹ Previous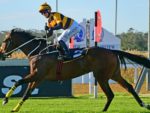 Lyle And The Lamp