The resistance from certain quarters of the South African racing community around ill-fitting sectional timing devices appears to have been resolved with the introduction of specially designed braces which will become compulsory wear for all jockeys.
The transponder proposed for use was considered by many seasoned horsemen to be inappropriate.
In a recent editorial Gauteng trainers' representative Mike de Kock noted that Joburg trainers had not voted on the Sectional Timing issue as yet, but said he had recently seen new devices half the size of the previous versions and noted that it looked as though the technology was improving.
Milnerton trainer Vaughan Marshall added:"It's nothing personal, we just feel it's not the right equipment.  If you watch top sportsmen, they carry small transponders between their shoulder blades.  If we can get something like that on the horses that can do the job, then that would be a different story."
Introducing the media to the new braces, Richard Tator, newly appointed spokesman for our racing regulator, said that he was sure that the industry would accept the revolutionary new equipment.
"If they are whinging about the horse being uncomfortable, then let's rather get the jockey to wear them. It makes sense," he said adding that the timing is measured from start to finish – which is when the jockey is aboard.
"The positive about this is that we can also monitor jockey movement – if they are a half minute late into the parade ring we can levy a R1500 fine. This contributes to our coffers. It costs a lot of money to do our work – and we cannot expect our officials to travel to events like the Dubai World Cup in the discomfort of economy class. Not after the hours they work and the contribution they make to the smooth running of the game in this country," said Tator, adding that good health was not a racket.
He said jockeys would be personally responsible for the purchase of the braces, which came in a range of fashion styles from R4999 a pair – which included the value-add of free matching socks.
They also only weighed 1,74 kgs and were sourced from a single supplier  in Johannesburg.
Mr Tator kindly provided us with a post office box number in Port Elizabeth for further information on the product specs.
A jockey spokesman, who asked to remain anonymous, said his colleagues would be fools not to pull their socks up and support the initiative.
‹ Previous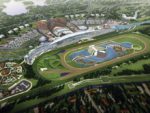 Two Pick 6 Dividends Are Correct