Cape Town is a few degrees cooler and overcast this morning. Durbanville hosts an eight-race programme, with the first off at 12h40.
The first-timer comments:
BRETT CRAWFORD
Race 1 – DREAM DANCER (3): Will  need the run.
Race 1 – ZELVANO (4): Will need the run.
JOEY RAMSDEN
Race 1 – CADBURY GLOW (5): If not too green should run well.
Race 1 – SANS REGRETS (7): Nice filly – looking for further.
Disclaimer: A Gold Circle information initiative. The views and opinions expressed in this article belong solely to the quoted author and stable represented. None of Gold Circle, the author, trainer or trainer representative, accept liability for any damages that may arise from any reliance placed on the views expressed therein.
‹ Previous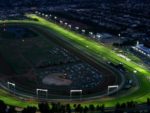 Night Racing – The First Timers