A new apprentice will be having his first ride under rules on 5 April 2018 and in something of a departure from the norm, will be doing it at the Vaal.
Nathan Klink, who will be suiting up for the very first time aboard Chris Gerber's Captain Chips, trained by the one and only Alec Laird, gets his name in the racecard in Thursday's race 7, a 1200m MR94 Handicap.
This is a departure for the Academy, which has traditionally had apprentices do all their qualifying rides in Durban. Riding Master Robert Moore explains that it is a new initiative. "Apprentices need to have a number of qualifying rides up the straight before being allowed to ride around the turn and Durban only has the Scottsville straight. Gauteng has the Vaal which races twice a week and we thought if we can bring the apprentices here, they will have more opportunities to get their qualifying rides under their belts. I've spoken to the trainers and the feedback from all of them was positive, so we're going ahead and trying it."
About Nathan
Twenty-year old Nathan is currently in his second year at the South African Jockey Academy. He signed his papers in Durban about a month ago and then transferred to the Gauteng Academy. He has been receiving coaching from Robert Moore as well as getting valuable practical experience via James Maree's Thoroughbred Racing And Development Centre. "We have both analysed and checked him out and feel he's now ready to ride in races," confirms Moore.
Nathan joined the Academy as an older apprentice, an increasingly popular approach that seems to be rewarding the Academy with success. Despite not growing up in a racing household, Nathan is blessed with a jockey's physique and at 20 years old, is still a very comfortable lightweight. "None of my people are in racing, but it was just something I had to try out and see how far I could get with it," he says. He has enjoyed his time in Gauteng so far, expressing his particular gratitude to Mr Moore for all his assistance and, having signed his papers, is hugely excited about getting his first opportunity this week. "I've been waiting for quite a while now, so it's going to be something new. Mr Alec Laird has given me my first ride and I'm so excited."
Being from Cape Town, Nathan unfortunately won't have any family on the rail to shout him home, but says they will all be watching on TV. Nathan is an only child, so it will be a particularly big moment for his mother, who is his biggest fan. "I think she will be more nervous than me!" he quips.
International Opportunity
Along with Kabelo Matsuyane, Nathan has also been selected as a beneficiary of the Childwick Trust and after his first race ride on 5 April, will be following in the footsteps of Tristan Godden, Eric Ngwane, Calvin Ncobo and Diego De Gouveia by spending three weeks at the British Racing School in Newmarket.
Mr Moore explains that the Academy is again trying a different approach to this initiative, selecting riders with less experience for the opportunity. "Three weeks is a long time at that stage of your career. The previous times we've done it, it proved disruptive and the guys lost out on quite a few rides.  This time we've decided to change it around and send guys that haven't ridden in races that much – that way they get a chance to go over and learn before they've started getting off the ground and then they can come back and start establishing themselves."
We wish Nathan all the best for Thursday as well as for his forthcoming trip to England.
‹ Previous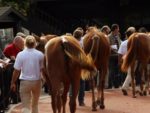 Quality At Arcana