Tuesday, 1 May 2018 marks three weeks since Anthony Delpech's surgery following his fall on Classic Day.
Anthony and his wife Candice know that friends and fans are anxious for news on his recovery, and kindly furnished us with a brief update.
Surgery
On Tuesday, 10 April 2018, Anthony underwent surgery to repair a disc herniation and a damaged spinal cord. The procedure entailed the removal of the herniated disc material, inserting a bone graft into the disc space, followed by a cervical fusion entailing screwing the upper and lower vertebrae to a metal plate to stabilise the joint.
Road To Recovery
The operation was completed successfully and Anthony spent 11 days recuperating in hospital, before undertaking the journey back to Durban. However, he is now safely home and focussing on his recovery, working on his rehabilitation every day.
The effects of the fall and the surgery have affected Anthony's hands, but he is making steady progress. "He is now mobile, can feed himself, and dress himself and is improving every day," reports Candice. "At this stage we are unsure what the extent of neurological damage is, but we will re-evaluate his situation with the doctors in 6 months' time. At this stage they are unsure how long he will be off, but expect it to be a minimum of 6-8 months."
Anthony hopes to be sufficiently recovered to visit Greyville and see fans in a month or two, but in the meantime, he and Candice wish to thank everyone for the on-going thoughts, encouragement and well wishes – every single one is appreciated.
‹ Previous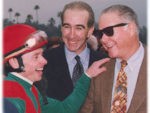 Hall Of Famer Joins TVI