The seventh race at Borrowdale Park on Sunday was declared null and void in terms of rule 61.6.1.1 after two horses went into the wrong gates.

The race was run up the straight and no discernible advantage was gained by either. But why bomb the race totally and rather not just declare the two non-runners?
Everybody from owners to trainers to jockeys to staff to punters lose with the kind of illogical decision to unilaterally declare the race void.
Hollywood came to punter's rescue – click here
In our book, the Zim stipes have a case to answer for a lack of discretion.
The rule states:
61.6.1.1 no HORSE shall be started from a stall other than that allotted by the draw;
It does not indicate what action should be taken, but surely a voiding of the race is extreme action?
Ed – NHA Racing Control Executive Arnold Hyde has advised us that he has requested a report on the incident and information as to how the decision was reached.
Click on the image below to read more Short Heads snippets

‹ Previous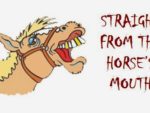 Turffontein Today – First Timers