The Cape Breeders Club have a busy month ahead with their annual stallion services auction being the curtain-raiser to the Cape Mare & Weanling Sale on Thursday 24 May, followed by a seminar on 29 May.
They also have a brand new shiny website – have a look here
The Cape Breeders Club NPC was incorporated in 2001. Its aims and objectives are to assist the Thoroughbred Breeders in the Cape in all matters pertaining to the industry.
In recent years the focus has been on education and the Club instigated the Grooms Training Program, which is used as a benchmark for the qualification for eligibility for entry into the Co-ops.
The Club is funded by the generous donations of services by the Stallion Owners/Managers, which services are auctioned annually.
Read about the stallion services auction
‹ Previous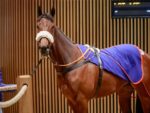 Scat Daddy Flies At Arqana