Racing in general becomes a small circle in which everyone knows someone who is connected to someone who knows someone in the game.
Hence I was shocked to hear of my doings and suspension being laid bare in the Sporting Post for all to see.  This cannot be good, I thought, writes Deryl Daniels.
Surely this marks the end of my career.  I have been riding for 26 years now and had my struggles, but somehow always managed to pull through, with minimal help.
Because I was trying to hide the fact that I have a problem, I never sought help, thinking how embarrassing and shameful it would be to let the cat out of the bag and be frowned upon by the critics of racing.
This was to be my worst failure and biggest learning curve that I have had to come to terms with.
I messed up, sure, I am doing my time, sure. But I let myself and a lot of good people down.  The roof had to come down though, and it regretfully came down hard.  This will always be in the back of my mind.
Right now though, I am amazed at how many people actually came forward to be by my side and offer help, advice, guidance and their wisdom. Even the great trainer, Mike De Kock voiced his opinion. I am truly gobsmacked!
From the top brass of Gold Circle right through to owners, trainers, jockeys. Management, family and friends, and even the racing public.  From when it looked like I have no way out to now having hope again, all of these people have been so amazing.  And they continue to stand by me.
How we reported on the Deryl Daniels – NHA Press Release
It is not easy, but I am no quitter, and with these people and God on my side I will do my time, I will work hard to recover and be my best again, and be back on the track again soon.
Once again, I am blessed and would like to thank each and every one of you for being there for me, from the bottom of my heart.

‹ Previous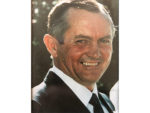 Remembering Mike Tillett