An epiphany  prompted me to invite a much younger friend to the East Cape Derby at Fairview on Saturday.
Ryan had never attended a race meeting and was raring to go, writes Ralph Fell in the Sporting Post Mailbag.

We thus made the 60km. round trip from my home to the concrete edifice that doubles as a racecourse.
From just prior to the first race it became patently obvious that the noble, magnificent racehorses were a sideshow.
During the course of the day we were subjected to:
A 'fashion show' where the models had to carefully descend a flight of concrete steps.
A Spanish dancing troupe.
A trio of high energy dancers.
A trifecta of more of the aforementioned.
Surly 'Men in Black' restricting free passage whilst these charades took place.
The inevitable Lucky losing ticket competitions, where the winners, in the main, appeared to have been scratched.
All the aforementioned conducted by a representative from the local radio station who appeared to want to garner more attention than the stars of the day – the superb athletes on show.
Overpriced and sparsely attended food stalls – a tub of 'slap chips' a meagre R32.
The lawn area populated by, presumably hired, a minimum of 30 wooden          tables and benches of which, at any given stage, a maximum of 3 were occupied.
Surly tote staff – Ryan's observation.
A Betting World cubicle, where one of the two clerks was cashing up 10 minutes prior to the 'off" of Race 8.
Cleaning ladies, I counted at least 8, in what appeared to be tailor made uniforms, standing disconsolately brandishing empty refuse bags whilst occasionally picking up an errant cigarette butt.
The general manager was quoted in the media earlier in the week as saying quote unquote 'a bumper crowd was expected.' I saw him in the distance on a few occasions cutting a distinctly forlorn figure.
Does Nadine come up for air?
An overwhelming cacophony throughout the day, and the only sound never audible was the beautiful one of a horse whinnying.
There's a rumour circulating that American Landing won the Derby, but don't take my word for it. Possibly one of the flamenco dancers knows the full result.
‹ Previous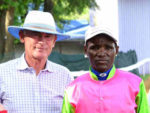 Dadamasi Is Champion