The strapping chestnut son of Scat Daddy, once thought to be a sprinter, Justify kept Hall Of Fame trainer Bob Baffert's Triple Crown dream alive in front of a crowd of 134,487 at Pimlico Racecourse on Saturday to win the 143rd Preakness Stakes.
In three weeks Justify, with the Kentucky Derby and Preakness now secured, will race at Belmont Park on Long Island with a chance to become just the 13th Triple Crown winner.
Tested like never before, Justify, an overwhelming 2-5 favourite on Saturday, ran neck-and-neck with rival Good Magic for much of the race, seized the lead coming out of the last turn and held off late-charging Bravazo down the stretch for a half-length victory, the smallest by far of his five career wins. Tenfold also closed hard and finished third by a neck. Good Magic faded to fourth.
"It was by far his hardest race," said Justify's jockey, 52-year-old Mike Smith. "A bit of the greenness came out today, but he was also pushed today early on."
Saturday's race somehow brought out a new, previously unseen attribute in Justify — a bit of grit and heart, which he had never before required — while also making him appear more beatable than he has at any other time. His previous four victories had come by a combined 21½ lengths, with his 2½ -length win over Good Magic at the Derby the smallest.
Regarding the 2400m third leg of the Triple Crown, Baffert rolled out the standard horseman's mantra—if all goes well, he'll run.
"I was never relaxed during the race," Baffert said. "He was in for a fight. I was just praying for the wire."
Even though it seemed for so many years like it might be impossible for a horse to win the Triple Crown in the modern era of racing — before American Pharoah came along, there were plenty of calls from industry critics for the races to be spaced out or even shortened — being hard to win is what makes it so great.
It is the ultimate automatic entry for immortality because nobody lucks their way into the club.
The ones who made it earned it, and the ones who fell short weren't meant to be there.
‹ Previous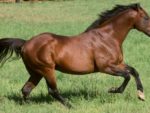 Exceed Continues To Excel