Pressing issues of minimum wages, accommodation and raceday transport appear to be at the core of an Economic Freedom Fighter's led strike by Randjesfontein – based Grooms, which disrupted the Turffontein racemeeting on Sunday.

The apparently wildcat strike led to the loss of close on fifty runners and the cancellation of the day's feature.
Besides being disruptive for stakeholders, the loss of runners impacts heavily on profitability for Phumelela, with betting turnover suffering as a result of smaller fields.
While official comment was not forthcoming, the Sporting Post has learnt that,  besides the dissatisfaction over wages and accommodation, the Gauteng traffic authorities have been treating the raceday transport as trailers and not permissible for human carriage.
This means that the transporter is incurring fines when illegally transporting Grooms with the horses. This is naturally also a serious safety consideration for the Grooms.
Champion trainer Mike de Kock, an acknowledged industry leader in staff training, with an established and loyal work-force, said on www.mikedekockracing.com: "There are between 300-400 strikers. We can't get in or out of the centre, all access is blocked and all the Randjesfontein runners will have to be scratched. I'm not sure it's worthwhile continuing with racing at all as betting pools will be decimated.
"This appears to be a wildcat strike. There hasn't been any negotiation so far, though there have been what sounds like valid complaints including labour-related issues.


"Phumelela's mode of transport has also been mentioned. When horses are transported to races the grooms do not want to stand with the horses inside the floats which may well be a valid concern too."
"The sad reality is that grooms will be the losers here. This is not a legitimate strike, they have done it in a disorderly fashion and it may well cost them their jobs and income.
"It is also unfortunate that the trainers like myself who do our best and go out of our way to comply and treat our grooms very well, have to suffer because a small minority of trainers that don't comply."
‹ Previous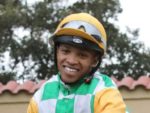 Lazy Apprentices Slammed