In a tough and competitive world, trainers will do almost anything to keep their customers happy.
But when an owner came up with a 'fun' name for one of her star babies that didn't meet with her approval, Summerveld trainer Alyson Wright put her foot down with a firm hand, as it were.
That 'star baby' has turned out to be one of the better 3yo's in KZN this season, and probably the best son of former SA Horse Of The Year and Equus champion Irish Flame (Dynasty) that we have seen to date.
His name is Sunny Bill Du-Toy, and after the Hollywood Syndicate's newest champion impressed when registering a hat-trick of wins at Greyville on Wednesday, he could take his place in the R2 million Gr1 Daily News 2000 on Saturday 2 June.
The Sunny Bill Du-Toy story started at the 2016 KZN Sibaya Yearling Sale, where Alyson Wright loved him.
"He was my kind of horse and I always liked him. I decided to bid to R80 000. But stopped there and the late Mr Adriaan van Vuuren got him for R85 000. I knew I couldn't have taken him on in a bidding war and felt a bit disappointed. But then he came up – still unnamed – five months later at the November Mixed Sale. We got him for R30 000," says the horsewoman with a sharp eye for a winner.
The Hollywood Syndicate were quick to include him in their fleet and set about naming the strapping athlete.
"His name comes from a bunch of racing crazy lads connected to Hollywoodbets – some employees, some punters, some mates – who go to the Breeders' Cup each year," explained Owen Heffer.
Owen said that the initial name proposal was 'Salty', which is Ian Stangroom's – one of the Breeders' Cup gang – nickname. But this was rejected by the NHA.
The next suggested was the popular eatery name, 'The Salted Pig', but  Alyson Wright put her foot down at this point, refusing to allow her champ and baby to carry that tag.
"We need our trainer to be happy, so we relented and gave it some more thought. He was then named after another one of the Breeders' Cup/Las Vegas boys, Suneal Batohi, who has been a regular at Hollywood since day one. Terry Commerford has always called Suneal  'Du Toit',  as he couldn't pronounce 'Batohi'  correctly – especially after a few beers," laughed Owen.
Suneal's nickname is 'Sunny Bill' and that is basically how Sunny Bill Du-Toy got his name!
As for Sunny Bill's programme and a possible run in the Gr1 Daily News, Owen says the future planning is entirely in Alyson and Kevin Wright's hands as they are the professionals – 'and of course Alyson picked him'.
Alyson confirmed that it is possible that Sunny Bill Du-Toy will run in the Daily New but that a final call will be made before final declarations on Monday.
We asked her how good he is.
"We don't know really as we don't have the horses to test him against. But he has won three on the polytrack on the trot. He has done nothing wrong."
Will he go as well on the turf?
"Yes, I have no doubt he will be as effective on the grass. We just have more polytrack racing – that's the only reason he has been racing on that surface."
We asked Anton Marcus, who rode him at his Maiden win, what he thought of Sunny Bill Du-Toy.
"He is progressive and above average!" Anton told the Sporting Post on Friday.
Just goes to show that R30 000 can still buy a decent racehorse – and a whole lot of fun and thrills!
The Hollywood Syndicate currently has 21 horses in training, based in stables in KwaZulu-Natal, Gauteng, and the Eastern Cape.
Click on the image below – visit the site for runner comments and news
‹ Previous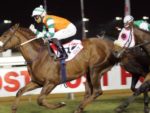 Post Merchants Bumper Entry