Apprentice Jason Gates has approached the Sporting Post with a request that he be allowed to apologise unreservedly for the events that led to the recent negative comments about him in the media.
"I've had a lot of time to think about what happened and I'm really sorry for what has happened. Firstly, I would like to apologise to Mr Van Zyl. I should have come to work my ride for him and I didn't. I'm very sorry for what I've done and fully understand why he took me off the ride. I hope that in future I can prove to him that I'm not lazy and hopefully once I've done that, he will give me a second chance."
Jason is also very embarrassed that his mistake, and the negativity that has flowed from it, has resulted in his fellow apprentices being tainted with the same brush.
"It's bad enough that I let Mr Van Zyl and myself down. But it really troubles me that my fellow apprentices have been labelled lazy and the Academy's name has been dragged through the mud! It's tough at the Academy and while we are competitive, all the apprentices are friends. So I would like to say to all the Apprentices that I am truly sorry for what I've done. That they  have been labelled 'lazy' – it's not fair at all, as I know how hard they work to try and become the best jockey possible. I also want to apologise to Mr Carlisle, Mr Bailey, the Riding Masters and all the other staff at the Academy. I know how hard everyone works and I'm grateful for the opportunity I have been given."
Jason also said: "I want to thank Mr Van Zyl for replacing me with fellow apprentice, Khanya Sakayi, who rode an excellent race and won. I'm glad the owners didn't suffer from my mistake and that Khanya, benefitted from my error."
Jason also wanted to recognise all those that have supported him during this time saying: "I would also like to thank all those people who didn't lose faith in me and have supported me during this tough time, especially Richard Fourie, Mr Kotzen and Mr Nel. I have been working very closely with top jockey Richard Fourie and we have been working a lot of horses together in Mr Kotzen's string that are here for the season. I've have learnt so much, riding work with Richard Fourie,  that while we were working on the bend, it completely slipped my mind that I needed to go and work my ride for Mr Van Zyl. I know this is a rookie mistake and it won't happen again. Mr Nel is my mentor at the Academy and no matter what mistakes I make, he always keeps me motivated and tries to ensure that I give my best in everything I do."
Although Jason is clearly embarrassed and remorseful about his mistakes, he says that he hopes that he can learn from them..
Jason laments: "I know over the past few weeks I've made a lot of mistakes and let myself and trainers down. But I'm going to do my best to not make these mistakes anymore and try and become the best jockey I can."
Ed – this statement was furnished to us with the blessing and knowledge of the Principal of the SA Jockey Academy
‹ Previous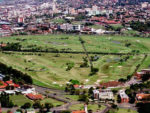 No Good Deed Goes Unpunished