Old associations, sentimental connections and fond memories of twenty years ago gather dust on the shelves of time but will enjoy the light of day again with the running of the East Cape Derby on Saturday.
The outstanding Trigger Finger filly Annie won this race two decades ago. It's tough for a lady – no matter the vintage of the year.
Men typically are faster than women. Apparently because they have a significantly greater maximum aerobic capacity –  or the rate at which oxygen can be used to produce energy.
The same applies to horses and that is where much of the fascination lies in the East Cape Derby.
Phumelela East Cape Racing General Manager Luciano Passerini told the Sporting Post that they were expecting a great turnout for a race that is always a spectacle.
"The Derby was moved to Fairview on the closure of Arlington in 2013. Interestingly, the last filly to win it was Annie in 1998," he added.
Twenty years on, the fairer sex probably have their best shout in years with Alan Greeff's Queen Forever and Yvette Bremner's Widow's Lamp taking on twelve males.
And in one of those lovely typically horseracing twists of irony to their no-holds barred clash on Saturday, Yvette Bremner was working for Alan Greeff in the Annie era of the late 90's.
The daughter of Trigger Finger was raced by Veronica Foulkes and ended up winning nine races from 800m to 2400m.
"I recall the day like yesterday when Annie did her tendon. We ran down to see her. I was bawling my eyes out," says Yvette, who added that Annie was a superstar and hated being beaten.
Yvette's boss of the time, Alan Greeff, said he couldn't believe how the time had flown.
"It can't be twenty years! Good grief, I'm getting old," reflected  the champion trainer as he remembered the sad moment.
"It was a small field. She was red hot odds-on. Piere Strydom was aboard. The old-timers were so sharp – my late Dad took just one look and said she won't race again. He was right."
On comparisons with Queen Forever and Annie, Alan would not be drawn and said that they were two very different horses.
He said Annie was 'absolutely brilliant' – albeit nothing much to look at.
"Greg Cheyne had the choice of rides between Queen Forever  and Kimberley Star for Saturday.  It was much of a muchness. A toss of the coin really. There is little to choose between my two.  But Queen Forever is a runner – that's obviously dependant on if she stays!" said the man who knows what it takes to win the Derby.
Yvette, now a successful trainer in her own right, said that Widow's Lamp showed nothing in her work.
"Just as Annie took on the boys and never wanted to be beaten in her work, so Widow's Lamp is unfazed. She keeps her energy for race day. But she is so naughty at the moment – a sign she is in the pink of health and wellbeing. Lyle had the choice of rides. He was on Belonje originally  – until Widow's Lamp won the Oaks!  Then he felt she would have a serious shout here."
Yvette said that Belonje was a runner but that he was a serious stayer in the making and would likely go 3200m as a 4yo.
"He is a so well-bred. But was small at the sale and we got him for R150 000. He is now 16,3 ha and growing! He is very immature and playful. He is one for the notebook though!"
The inevitable twists and turns of the Annie story has further irony woven in.
Sally Bruss of Lammerskraal bred Widow's Lamp and had the privilege of hosting the champion broodmare Annie in the Lammerskraal ranks for years.
"Mr Mike Rattray made a business decision in the 90's to breed for quality. He decided to limit the broodmare band to 50 and buy in well-performed, well-bred athletes with proven race performance. Welsh Woman, dam of champion Celtic Grove, was the first and Annie was also acquired from Veronica Foulkes after she retired from racing,"  recalls Sally, who proudly adds that her former boss was a forerunner of a policy that has proven a winner internationally.
Annie produced Equus Champion Ice Cube and multiple stakes winner and Durban July placed Jagged Ice, amongst a host of winners. She was euthanized four years ago –  that  old injury incurred in the East Cape Fillies Guineas two decades earlier proving to be her undoing.
Pressed on whether she felt Widow's Lamp would stay the 2400m, Sally said that the Go Deputy stamina influence would count in her favour.
"There is plenty of speed dominance in her damline. But she looks like a stayer and she settles nicely.  We have her full-brother in training with Geoff Woodruff and he says he looks a staying sort. We sold her half-sister by Master Of My Fate at Nationals. But she came up late and they got her for R300 000. Thankfully we have a gorgeous Visionaire colt weanling right here with us. We will be rooting for Widow's Lamp!"
Get much more news  – click on the SP Digest image below

The East Cape Derby will be run on Saturday at 15h05 – watch it live on Tellytrack Dstv 239
‹ Previous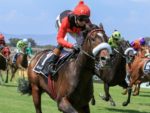 July Stepping Stone Looks Tricky