The National Horseracing Authority confirms that at an Inquiry held in Port Elizabeth on 10 May 2018, Jockey Sandile Khathi was charged with a contravention of Rules 77.1.1 and 77.2.1.

This arose in that he presented himself to ride at the Fairview Racecourse on 04 May 2018, whilst having a banned substance, namely alcohol, with a concentration level of 0,06mg which is over the concentration threshold of 0,024mg per 100 millilitres, in his breath.
Jockey Khathi pleaded guilty to the charge and was found guilty of the charge.
The Inquiry Board after hearing all the evidence and factors presented during the inquiry by Jockey Khathi, as well as what was said in mitigation, ruled that Jockey Khathi be suspended from riding in races for a period of fourteen (14) days.
Jockey Khathi has the right of appeal against the penalty imposed
‹ Previous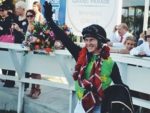 Striker – Equipment Failure