Our original Triple Tiara winner was the mighty Igugu, owned by Andre MacDonald and Sheikh Mohammed bin Khalifa Al Maktoum, campaigned by Mike de Kock and ridden throughout her Tiara campaign – and in fact, the rest of her South African career – by Anthony Delpech.
The partnership started in the 2010 Cape Fillies Guineas, when Anthony partnered her to a 1.25 length 2nd to Ebony Flyer. Anthony would never be beaten on Igugu again. When they lined up in the 2011 Gauteng Fillies Guineas three months later, Anthony dropped the hammer at the 400m marker to steer Igugu to a 4 length victory over Hollywoodboulevard.
If a 4 length trouncing of the best of her peers wasn't enough, Igugu stretched to a facile 10.25 lengths in the Fillies Classic. Anthony remembers, "They went really slow. It wasn't my intention to go to the front, but I decided to take it up and she won by a distance."
In the SA Oaks, Igugu disposed of a field of nine to win by 5.75 lengths. To say she did it with contempt would imply she paid the rest of the field some kind of attention, but Igugu had that sort of otherness about her that showed she was running a different race to everyone else.  On 30 April 2011, she secured her place in history as South Africa's first Triple Tiara winner, relieving Phumelela of the R1 million bonus to boot!
"She was at that time really way above any filly around. She just was way too strong," recalls Anthony.
After her triumphant Highveld campaign, it was off to Durban, where Igugu won the Woolavington and then romped to glory in the 2011 Vodacom Durban July, making it 5 wins on the trot.
She started her 4yo campaign in December, winning the Gr2 Ipi Tombe Challenge and then headed to Cape Town for the 2012 J&B Met. "We were worried about the Met," recalls Anthony. She really didn't have a great prep. It was almost touch and go to scratch her. Mike made the decision to go ahead and I think she went into the Met about 80% right. At the end of the day it was pure ability that brought her through. She never showed the speed she normally did – it was just pure class that carried her through."
In the post race interview Anthony reflected on the difficulties she'd faced not only in her prep, but in the race itself, saying "These horses only come once in a lifetime."
Six years down the line, his opinion hasn't wavered. "She is probably the best filly I've ridden in my career. To win the July, the Met, the Triple Tiara – there are not too many that can do what she did."
Deja Vu
With Takingthepeace about to campaign to extend the membership of the Triple Tiara club to three, there are a lot of fun parallels between the two fillies.
A young(er) Mathew de Kock had just joined his father's yard and Mike gave his young assistant a group of fillies to train the way he wanted. One was a little Galileo with an asymmetrical white marking….. Years later Mike would remember, "I didn't interfere, just asked that he rang me every day and tell me what he was doing. One day he said 'You've got a champion here'. I used a bit of language – he'd only been at it for 2 minutes, although in reality he'd been learning his whole life, I suppose – but he was adamant. And he was right. It was Igugu."
Mathew found Takingthepeace at the 2016 Ready To Run sale and like Igugu, has nurtured her for her whole career. And of course, it was none other than Anthony Delpech who rode Takingthepeace in her first four outings.
What does he make of Takingthepeace? "She was always a good filly from the word go," says Anthony. We questioned her staying the 1800m, but she's showed she has no stamina problem. The question will be the 2400m – can she really do it? But the style in which she races allows her to have a chance."
History awaits.
‹ Previous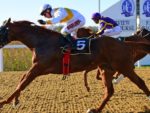 Greeff & Cheyne Run Riot At Fairview