Racing can have its ups and downs and I definitely can't exactly say I'm on an "up" at the moment, writes Piere Strydom in his weekly column in The Citizen.
I have spoken before about getting on the wrong horse at the wrong time and that is exactly what happened to me on Thursday.
I have had numerous falls through my career and even though I have been lucky enough not to have suffered a major injury, any injury does set you back.
In Race 4 on Thursday I rode Refuge and as they jumped from the starting stalls I initially thought he had jumped a little skew. That can cause your foot to come out of the stirrup iron but most of the time you get your foot back inside in a matter of strides and get back riding.
This time I was quite amazed that I fell off in such an easy manner, but I only learned later that my stirrup iron had snapped. We often have to replace our equipment through wear and tear but how do you judge, if something is made of steel, where and when it is going to break?
In fact, brand new irons have been known to snap so there is just no way of knowing. It was lucky that it happened at the start so we were not going at full speed.
In terms of my injury, I was obviously sent for X-rays as I felt a pain in my neck and they showed I had a fracture in my neck. I was then sent for an MRI scan and the report back from the radiologists is that they believe it is possibly an old fracture.
Therefore I have to take this week quite easy and hopefully I will be back next week.
The run of injuries to jockeys lately has been quite weird to see. Right now top jockeys like Anton Marcus, Anthony Delpech and Gavin Lerena are all out for long periods after falls.
But I have to add that even though through the years we may fight and argue with people, so many people have called to ask about my well-being and have wished me well. As tough as this game is, at least we can say that we still care about one another.
‹ Previous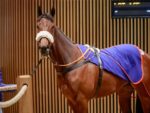 Scat Daddy Flies At Arqana