Anthony Andrews, the missing man of the Cape Town weighing room, expects to be out of action for a further two months.
Michael Clower writes that when his right foot was crushed in the pens by a panicking Happy Girl at Kenilworth on April 28 x-rays revealed only soft tissue damage and Andrews expected to be out for not much more than a week. But the real damage proved to be in his right shoulder.
He said on Tuesday: "The foot was swollen for quite a long time – a week and a half to two weeks – as the ligaments were damaged.
"Initially I only had a bit of a niggle in my shoulder but, when it didn't go away, an MRI scan revealed ligament and tendon damage that required an operation to repair. When the horse reared and fell, trapping my foot between her and the metalwork, I grabbed whatever I could to pull myself clear and that is when I did the damage. With the adrenalin pumping I didn't realise anything was wrong.
"The doctors said I would be out for three or four months. It was four weeks ago that I had the operation, and I am doing intense physio three times a week, so I should be back in the saddle two months from now."
-www.goldcircle.co.za
‹ Previous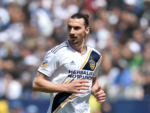 Off-Season Soccer