The exciting Brett Crawford trained East Cape Derby winner American Landing is amongst the eighteen entries for the all-ages Gr3 Track & Ball Derby to be run at Scottsville on Saturday  23 June.
Derby Day at Scottsville includes the Gr3 Track & Ball Oaks and with the two former classic races now being staged as open weight-for-age events, large and strong entries have been received for the 2400m clashes.
This year 18 colts and geldings have been entered for the Derby of which seven are three-year-olds while 24 fillies and mares, of which 11 are three-year-olds, have been nominated for the Oaks.
The Track & Ball Derby entries include horses that have featured well in top races with the three-year-old runaway winner of the Eastern Cape Derby, American Landing, looking to carry his form through for trainer Brett Crawford. He could come up against a number of Vodacom Durban July entries including the Justin Snaith-trained Strathdon that ran a brilliant race in the Lonsdale Stirrup Cup where he was just touched off by stable companion Made To Conquer.
Last year's winner Mr Winsome is also back to defend his title.
Royal Crusade, Roy Had Enough, It's My Turn, The Slade and the mare Girl On The Run are other July entries among the nominees.
R300 000 2400m (Turf / Inside) TRACK AND BALL DERBY (Grade 3)
4
American Landing
Brett Crawford
87
5
Ballymaine
I S Moore/D W Moore
81
13
Cape Speed
Dean Kannemeyer
96
11
Forafewdollarsmore
Sean Tarry
84
18
Girl On The Run
J A Janse van Vuuren
100
15
It's My Turn
Dean Kannemeyer
108
10
Liquid Rainbow
Andre Nel
80
2
Mr Winsome
Dean Kannemeyer
98
16
Ollivander
Candice Bass-Robinson
93
14
One Man Show
Dean Kannemeyer
95
9
Roy Had Enough (AUS)
Frank Robinson
107
12
Royal Crusade
Mike de Kock
101
17
Run Red
Andre Nel
82
1
Silver De Lange
Andre Nel
80
8
Strathdon
Justin Snaith
102
7
The Slade
Dean Kannemeyer
105
6
Top Classman
Frank Robinson
77
3
Wild Brier
Candice Dawson
75
(18)
The three-year-old Go Deputy filly Flichity By Farr from the Alyson Wright stable, runner up to Secret Potion in the SA Oaks at Turffontein and an entry for the Vodacom Durban July, heads the strong entry for the Track & Ball Oaks where she could be tested by Leaves Of Grass and Raya Baya that filled the first two places in the Jamaica Handicap at Kenilworth in January.
The Australian-bred Ngaga won the East Coast Handicap over 2 000m for Andre Nel and the Geoff Woodruff-trained Bi Pot was beaten just half a length into second place behind Sabina's Dynasty in the Gerald Rosenberg at Turffontein with Girl On The Run in third place in that race.
With the Vodacom Durban July final declarations due 48 hours after the running of these two features, good performances here could go some way to swaying the panel.
R300 000 2400m (Turf / Inside) TRACK AND BALL OAKS (Grade 3)
11
Argenteus
Andre Nel
81
4
Arizona Sunset
Kumaran Naidoo
79
15
Bi Pot
Geoff Woodruff
105
7
Epona
Joey Ramsden
96
9
Flichity By Farr
Alyson Wright
100
13
Girl On The Run
J A Janse van Vuuren
100
20
Green Fairy
Duncan Howells
72
16
Insignis
Geoff Woodruff
85
12
Janice's Secret (AUS)
Frank Robinson
62
21
Lady Li Lay
Andre Nel
80
18
Leaves Of Grass (AUS)
Candice Bass-Robinson
84
23
Meryl
Dean Kannemeyer
98
8
Ngaga (AUS)
Andre Nel
99
24
Onesie
Mark Dixon
81
6
Pumpkin Queen
Dean Kannemeyer
74
10
Raya Baya (AUS)
Candice Bass-Robinson
94
1
Roy's Riviera (AUS)
Frank Robinson
96
17
Roy's Vogue (AUS)
Duncan Howells
84
2
Royal Utopia
Candice Dawson
85
19
Shirley Valentine
Dennis Bosch
74
3
Star Evolution
Glen Kotzen
78
22
Sunshine Silk
Geoff Woodruff
82
5
Wind Chill
Joe Soma
101
14
Witchcraft
Sean Tarry
92
(24)
‹ Previous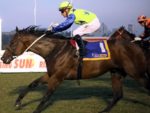 KZN Winter Challenge Thrills