Racing fans and enthusiasts were treated to a trivia gem on Sunday, 10 June 2018 when three generations of the Ferraris family graced the winner's enclosure in their separate capacities on the same day.
Unique Treble
Ormond Ferraris, who first took out his trainer's license in 1952, is one of the senior statesmen of our training ranks with 65 years of experience under his belt. The doyen of the SA Oaks and one of only two trainers to saddle a South African Triple Tiara winner, he is probably best remembered for his dramatic July near-miss with Distinctly in 1975.
Ormond's son David has been a trainer in his own right since 1995, and is remembered in South Africa for his four champion trainer titles and back to back July wins with Super Quality and Classic Flag. David relocated to Hong Kong for the 2003/04 season, where he found early success with six-time Gr1 winner Vengeance Of Rain and has been plying his trade there ever since.
David's 16 year old son Luke was born with racing in his blood. Currently in his second year at the SA Jockey Academy, he is already creating an impression – and writing his own chapter of racing history – by riding the first two winners of his career for his grandfather at the Vaal on 24 February 2018.
Family Feat
Sunday's remarkable feat kicked off in Hong Kong. David, whose newly installed equine swimming pool seems to have been just the tonic his string needed, got things started at Sha Tin by saddling two winners:  Soccer Brave, courtesy of Alberto Sanna in race 2 and Pikachu, under Victor Wong in race 4.
Next up was Luke Ferraris, who notched his 14th career winner at Turffontein, aboard the Grant Maroun-trained Arte a little after 3pm.
Finally, the baton passed to Ormond Ferraris who rounded off the family's remarkable run, saddling Go Ballistic to win Turffontein's last race of the day at 16:55.
World Record?
We did a little digging to see whether the feat has ever been achieved before.  While it was fascinating to trace back a number of racing family dynasties, we were unable to find an occasion where three separate generations, all holding individual licences in their own right, celebrated success on the same day.
Is it possible we have witnessed a world first?
‹ Previous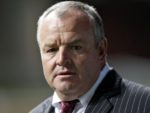 'Handicappers Clueless'- De Kock