Champion trainer Sean Tarry has two runners in Saturday's Gr1 Gold Challenge field, including his Vodacom Durban July candidate Liege and crack but off-form sprinter Trip To Heaven.
According to a Gold Circle Press Release published on Monday, the five-year-old Dynasty gelding Liege has not raced since winning the Gr1 Summer Cup in November and thus technically should not be allowed to race on Saturday.
The Sporting Post notes that Liege – as in the example of Legislate – is subject to a Barrier Trial in terms of the local condition introduced with effect from 1 March 2018. The condition states that any unraced horses or raced horses returning after a rest of 150 days or more, participating in KwaZulu-Natal, must have a valid Barrier Trial Certificate.
Horses have to run within 60 days of their trials, calculated to the acceptance date.
However, discussions were taking place between Gold Circle and the National Horseracing Authority on the gelding's participation on Saturday, which is his July prep.
Something of a catch 22 for the connections?
Ed – note that on 5 June, Liege was withdrawn
R1 million RISING SUN GOLD CHALLENGE (Grade 1)
Weight-For-Age
WFA: 2yrs-10.5kgs 3yrs-1.5kgs
No Apprentice Allowance
1
4
Captain America
60
124
A
……………
Brett Crawford
2
1
Sail South
60
123
A
B Fayd'Herbe
Brett Crawford
3
8
Gold Standard
60
117
BA
R Fourie
Glen Kotzen
4
9
Copper Force
60
111
A
C Murray
Justin Snaith
5
6
Liege
60
110
T A
*L Hewitson
Sean Tarry
6
7
Trip To Heaven
60
110
T A
S Khumalo
Sean Tarry
7
2
Undercover Agent
58.5
111
A
……………
Brett Crawford
8
5
Roy Had Enough (AUS)
58.5
110
A
S Veale
Frank Robinson
9
3
Snowdance
56
114
A
G van Niekerk
Justin Snaith
(1,2,7) (4,9) (5,6)
A compact field of nine runners, including the exciting three-year-old filly Snowdance, will face the starter for the R1-million final July golden ticket run over 1600m at Greyville on Saturday where a total of 10 Vodacom Durban July hopefuls will feature on the programme in a final bid for a place in the premier event on July 7.
Just three July contenders will compete in the Rising Sun Gold Challenge with the other seven running in the R300 000, Grade 3 Cup Trial over 1 800m which has a field of 12 that includes the favourite for Africa's greatest race, African Night Sky.
Snowdance, the Justin Snaith-trained winner of the Cape Fillies Guineas and the Majorca Stakes before being upstaged in the Daisy Fillies Guineas at Greyville by Fiorella, is supported in the race by stable companion Copper Force but the pair face a formidable team of three from the Brett Crawford yard comprising Captain America, Sail South and Undercover Agent.
None are July entries but all three are highly accomplished in their careers with the three-year-old just being touched off by Perovskia in the Independent On Saturday Drill Hall Stakes and the other two finishing within a length off Legal Eagle in the Grade 1 L'Ormarins Queen's Plate.
The Cup Trial will be followed with great interest with July favourite African Night Sky in the field.
The four-year-old Dynasty gelding was just touched off by Star Express in a Pinnacle Stakes race over 1 600m in his only local run this season but is highly rated on his exposed ability and as long as he gives a good account of himself on Saturday his July place is secure.
Among his opposition is the Russian Sage gelding Perovskia from the Harold Crawford stable that caused an upset when winning the Independent Of Saturday Drill Hall Stakes and the Querari gelding Head Honcho that has won his last three starts including the Sledgehammer.
R300 000 CUP TRIAL (Grade 3)
Open
WFA: 2yrs-11.5kgs 3yrs-2kgs
No Apprentice Allowance
1
8
Celtic Captain
60
110
A
B Lerena
Mark Dixon
2
2
Perovskia
59.5
109
A
C Murray
Harold Crawford
3
11
African Night Sky
59
108
A
G van Niekerk
Justin Snaith
4
5
Mambo Mime
57
104
A
W Kennedy
Dean Kannemeyer
5
1
Crowd Pleaser
56
102
A
R Danielson
J A Janse van Vuuren
6
9
Platinum Prince
55.5
101
BA
R Fourie
Justin Snaith
7
6
Wild Wicket
55
100
BA
M Yeni
Duncan Howells
8
12
Cape Speed
54
98
BA
S Randolph +0.5
Dean Kannemeyer
9
10
Head Honcho
54
98
T A
K de Melo
Andre Nel
10
4
Ollivander
53
96
BA
M Byleveld
Candice Bass-Robinson
11
3
Summer Sky
53
96
BA
*L Hewitson
Dean Kannemeyer
12
7
Roy's Riviera (AUS)
52
96
A
S Veale
Frank Robinson
(3,6) (4,8,11)
‹ Previous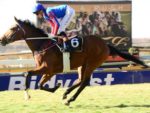 Mayfair Horses On Super Sale