South African horseracing finds itself at the crossroads as protest action by the industry's single largest sector threatens to spread countrywide.
Thursday's Vaal racemeeting is also in jeopardy with reports of a lockdown of various training yards by protesting Grooms at the Randjesfontein Training Centre earlier today.
While reports are sketchy, a Gauteng trainer told the Sporting Post that certain of his colleagues  were held hostage earlier.
Apparently Grooms will down tools on Thursday, and trainers were making contingency plans to water and feed their horses.
Speaking on condition of anonymity, the trainer said that armed vehicles and security had been deployed as there were frightening threats of horses being released from the centre..

While Grooms are employed by Trainers, there was no comment forthcoming from the racing operator who manages horseracing in the region.
Last month a protest at the same centre resulted in a serious knock for betting turnover and losses for owners and trainers as a Sunday meeting at Turffontein was badly affected.
The Parliamentary Portfolio Committee on Labour met with the Department of Labour and the Department of Trade and Industry to discuss matters affecting employees in the industry last week.
‹ Previous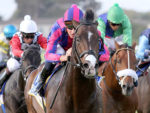 An Emerging New Guard