Apprentice Kabelo Matsuntyane enjoyed a red-letter day at the Vaal on Thursday when he brought home Heywot for trainer Craig Mayhew to win the seventh race.
The 19-year-old has only had six rides, finishing fourth aboard Danza first time out, and now having his first trip to the winner's enclosure.
While it was a day the young man will never forget, most punters will have had mixed feelings about his success, as 18-1 Heywot was probably the biggest contributor towards a whopping Pick 6 dividend of R954,235!
-Tabnews
‹ Previous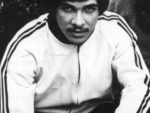 Smiley Returns To Commentary Box