The four-year-old Toreador gelding Matador Man, an entry for the R4.25-million Vodacom Durban July, has thrown his tab into the hat to defend his title in the R1-milion KZN Breeders Million Mile to be run at Greyville in Durban on June 30, just a week before the country's premier event.
Out of the Mogok mare Sahara and bred at one of South Africa's leading studs in the KwaZulu-Natal Midlands, Scott Bros, Matador Man is trained by reigning champion trainer Sean Tarry and holds the class record for the mile of 94.1 secs at Greyville which he set when winning this race last year.
The four-year-old, that features in the top 20 on the latest July Log and could well be included in the final big race field, is one of 14 KwaZulu-Natal-bred entries for the Million Mile event that heads the annual KZN Breeders meeting that includes seven other non-black type races that each carry a stake of R200 000 and cater for horses that qualify over distance from 1 200m to 1 900m.
R1 000 000 KZN BREEDERS MILLION MILE (Non-Blk Type)
For KZN bred 3-year-old and older
WFA: 2yrs-10.5kgs 3yrs-1.5kgs
No Apprentice Allowance
12
Champagne Haze
(5G)
59
114
A
Gary Alexander
13
Africa Rising
(4G)
58
107
A
Sean Tarry
4
Romany Prince
(5G)
58
102
A
Ormond Ferraris
8
London Call
(7G)
57
114
A
Mark Dixon
10
Unagi
(4G)
57
109
A
Gary Alexander
9
Matador Man
(4G)
57
105
BA
Sean Tarry
11
Glider Pilot
(4G)
57
103
A
Tyrone Zackey
2
Scrabble
(3G)
55.5
88
A
Tony Rivalland
7
Morning Catch
(3G)
55.5
86
A
Joey Ramsden
1
Subtropical
(3G)
55.5
81
BA
Dennis Bosch
6
#The Bayou
(3C)
55.5
75
A
Paul Lafferty
5
Heaps Of Fun
(5M)
54.5
98
AT
Sean Tarry
3
Dawn Calling
(4F)
54.5
95
BA
Duncan Howells
14
Intergalactic
(5M)
54.5
89
AT
Sean Tarry
(14)
Having run third behind Elusive Silva in the World Sports Betting 1900 in his last outing and beating home another July entry Glider Pilot over a mile at Turffontein before that, the Tarry stable inmate will be strongly fancied to complete the race double if he stands his ground. Glider Pilot, from the Tyrone Zackey stable, is also among the entries and comes off a moderate run behind Yakeen in the Jubilee Handicap last weekend.
Highveld trainer Gary Alexander has entered two runners – his Kahal sprinter Champagne Haze and the Admire Main gelding Unagi that ran a super third behind Legal Eagle in the Horse Chestnut Stakes at Turffontein and another third placing over a mile on the inside Turffontein track last time out.
The KZN Breeders stage the meeting each year with a total stakes pot of R2.5-million as well as the R1-million, KZN Yearling Sale Million race on Vodacom Durban July Day, giving back to supporters of the industry in the province.
Racegoers are always encouraged to wear outfits of black and white on the day to show their support for the thoroughbred breeders in the province.
‹ Previous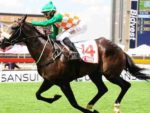 Simons Gets 45 Days