The death of trainer Leon Erasmus in a motor car accident on Sunday has left a pall over South African horseracing.
Tabnews reports that Leon Erasmus died in an accident near Randfontein on Sunday evening when travelling with his wife, Marie, daughter Tharien de Bruin, son-in-law Rudie de Bruin and their 18-month-old son Kiaan. They were taken to a hospital in Randfontein.
Marie Erasmus and her grandson were discharged on Sunday. Tharien had surgery on Monday morning and is currently in high care, while her husband appears to be unhurt.
The family were travelling to their home in Deneysville when the accident happened.
Leon Erasmus was born on 25 April 1960 in Randfontein and attended Randfontein High School. He was born into a racing family and described his father as the best horseman he knew. He worked as diesel mechanic but then Ray Botha approached Erasmus to train for him. He was granted his trainer's licence in 1990 and his first winner was Abstracter in Bloemfontein.
Possibly the best horse he trained was Little Hampton who was a star sprinter on the Vaal sand and had a race named after him when he retired from racing.
He is survived by his wife Marie, sons David (36) and Johan (31), and daughter Tharien (27).
Funeral arrangements will be announced later.
‹ Previous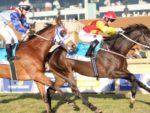 American Landing For Scottsville