JP van der Merwe tops the Mauritius jockey log alongside Robbie Fradd and Cedric Segeon on seven wins each after Saturday's tenth meeting.
The competition is tough this season and there is little to choose between the top eight.
In that joint eighth position is Victorian jockey Daniel Stackhouse who has not taken long to make his mark in Mauritius, having already ridden four winners in three meetings, including a hat-trick of wins on Saturday.
www.thoroughbrednews.com.au reports that Stackhouse began his Mauritius stint as the stable jockey for one of the leading yards on the Indian Ocean island, the Gujadhur family on May 19. There was to be no fairytale start in four rides on Day 1, but the next meeting (they ride every Saturday at the country's only racecourse, the Champ de Mars) saw him opening his account with Perplexing in the Lucky Last.
As if spurred on by that ice-breaker, the New Zealand jockey went even better at the third time of asking, booting home a magnificent treble with Square The Circle, Sky High Flyer and Stock Broker, immediately gaining new fans from the notoriously fickle racing-mad Mauritians.
The 27-year-old jockey, who was at his first overseas stint outside New Zealand and Australia, said his confidence has grown by leaps and bounds after the big haul, even if he is still learning about his new workplace.
Stackhouse is currently the only Australasian jockey riding in Mauritius. Of the 15 trainers there, 10 have hired a retained jockey from six different countries.
Brisbane-based South African jockey Robbie Fradd rides for champion stable Rousset and has already seven winners on the board in only three meetings. Three other South Africans ,namely Juan Paul van der Merwe , Derreck David and Keanen Steyn also ply their trade there.
Other jockeys hail from England (Richard Oliver and Richard Mullen), France (Cedric Segeon), Greece (Ioannis Poullis), and India (Imran Chisty).
‹ Previous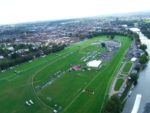 Racecourse Under Fire