There seems to be an unusually large group of promising freshman sires in South Africa with two-year-old winners.
However, one generally needs to wait until there's at least one crop that has turned four in order to get a better view, suggests Oscar Foulkes.
With that in mind, I thought it would be interesting to check in on last season's freshmen, which seemed to be a smaller group than usual. Their first crops are reaching the end of their three-year-old seasons, so a more sensible examination is possible.
Topping the billing is What A Winter, who has done everything one would expect a magnificent looking champion sprinter to do.
His progeny look the part and run accordingly. His first crop is already on approximately 50% winners from foals (average for the breed, although likely to increase), with two top sprinters in the form of Dutch Philip and Magical Wonderland. From his second crop, the Nursery-winning Clouds Unfold looks to be headed in the same direction.
What a Winter has a way to go to match his sire's extraordinary 10% stakes-winners from foals, but he is outperforming breed averages. While it remains to be seen whether he can breed the classic horses that Western Winter gave us, good horses of any distance aptitude are most welcome.
From a commercial breeder's perspective, What A Winter's sales performance has a high level of reliability. His yearlings look the part, and a large percentage of them more than cover their production cost.
Further along the distance spectrum is Twice Over, who won Grade I races over 2000m at the ages of four, five and six. It isn't exactly the profile one would expect to sire a Grade I winner over 1200m at two, and yet that is exactly what Sand And Sea did (out of a Spectrum mare, nogal).
Unfortunately, the strapping Drier-trained colt appeared to go wrong this season, but Twice Over had Do It Again and Doublemint to win graded races for him over classic distances at three.(Sand And Sea is catalogued for the Super Sale on 25 June – Ed.)
He has three other stakes horses, which indicates some depth. His percentage of winners from foals is some way behind What a Winter's, but one would expect his stats to improve as his progeny get opportunities over 2000m. In fact, a surprisingly high percentage of his runners haven't been tried beyond 1400m.
Twice Over would appear to offer value at present, especially on his yearling prices (just two of his 13 yearlings on the Klawervlei Farm Sale reached R100k or more).
There's a lot to like about a stallion that one can confidently expect to throw 2000m horses, especially if they are as tough as their sire was. There certainly are indications that they get better with age.
Oratorio is proof of the need to not rush to snap judgements.
His first South African crop, of over 100 foals, has not (yet) delivered a stakes-winner, which would have had some running for the exits. However, he has five stakes horses in his first crop, and his smaller second crop has already produced three stakes-winners and a further two stakes horses.
Siring first and second-placed finishers in the GrI Gold Medallion certainly made a statement! As a GrI winner over 2000m, and the sire of Grade I winners over that distance, Oratorio shouldn't be judged on two-year-olds alone. It will be interesting to see how Van Halen, Cue The Music and Carlita develop at three.
As a sprinter, Crusade is favoured by an early look at his stud record.
He has one stakes-winner in each of his two crops to race, which is below par, but he looks likely to get to 50% winners from foals in his first crop. With eight two-year-old winners in his second crop, he is on track to repeat that.
‹ Previous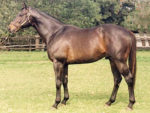 Ever Dear Lassie