Sail South is an amazing horse. His record of 43 races shows that if he doesn't win he certainly doesn't let you beat him by far.
And he can carry weight – in the latest 4 of his 9 career wins he shouldered 58kg, 61.5kg, 61kg and 60.5kg.
The great handicapping debate was stirred up by Mike de Kock on Tuesday – did you read his moan? Click here
Tony Mincione writes that when Sail South beat Captain America, truly his racing companion, in the 2017 Gr1 Champions Cup his rating went up by 3 points.
In 6 subsequent races his rating has stayed the same due to his consistency to hardly ever be more than 3L off any company with exception in the Met.
So it was no surprise to see Sail South and Captain America each no more than 0.75L and 1.5L off the winner carrying the normal 60kg in the 2018 Gr1 Gold Challenge, as they do, running 3rd and 4th.
Hats off to Brett Crawford to have these two 7 year olds hardly ever run a poor race.  Captain America has earned a cheque in 33 of 34 races when only ever once 4.45L off in an 1800m Gr2.  We need to present them a medal.  Gold!
The thing is though, neither of these stalwarts has won a race in about a year.  Both are propping up their ratings by sheer class. What's at work is the utter honesty of two heroes and the trainer's prowess to keep them happy and game.
But all of this is the preface to the Rising Sun Gr1 Gold Challenge and the startling increase in the ratings of two 3 year olds, a colt and a filly with 10 and 7 runs exposure, respectively.
The proximity of Sail South and Captain America has inspired the handicapper to take the beaten distances at face value, and adjust the rating of Undercover Agent to a record breaking 125 and the filly Snowdance to run a career best in defeat rerated 5 points higher to 119.
The finishing order of the Gr1 Gold Challenge showng old MR, new MR and lengths behind:

You have to argue that if you are at all worried about this, then the fact (yes, Fact) that on this scale Roy Had Enough, the other 3 year old in this small field, also runs a career best 117 in defeat by beating home a sprinter by a length over a mile.
How does this not ring all the warning bells?
Just because they don't "give" the 117 to Roy Had Enough doesn't mean it didn't happen.
Possible it's the African Night Sky rule at work – we know these rules are unsophisticated and the source of unintended consequences.
To labour the point – if Undercover Agent is 125, then Trip To Heaven ran a 115 off his 110. It's possible, I suppose. But his best ratings have been earned by his many victories over 1200m so I'm not rushing off to believe 115 over 1600m.
If we had sectional times we would have another tool, possibly a very sharp one, that could help make sense of something that looks weird on the face of it.  Either it's the two in front that defines the race, or the two filling the places that define it.
It's a smash for those young horses if the handicapper chose wrong.
Granted neither 3yo's Undercover Agent (125) nor Snowdance (119) will be rushing off to a handicap anytime soon so there is no need to panic.  But what confidence can anyone have once you've seen this?
To be fair to the handicappers, they are muzzled.Or I assume they have been instructed to stay mum!
But they can't have it every which way:  you can't have no transparency AND no comment.  We could do with one, or the other! .
** It is possible that Roy Had Enough was dropped after the Gr1 Daily News and that the new 107 rating didn't reflect as the Gr1 Gold Challenge was just a week later, but I couldn't find any evidence so I don't know.
‹ Previous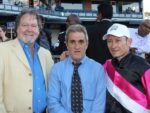 Gunter Injury – Latest