"Earl Of Surrey – he's in a hurry – he's hotter than an Indian curry…!"
Zimbabwe trainer Noelene Peech is on record as saying that her homeland may be the poorest racing country on earth, but that they boasted the best race commentator on earth.

South Africa's first racecaller of colour and one of our great footballers of last century, Smiley Moosa is set for a comeback and will call two races at Turffontein on Sunday.
Now 66 years old, and not having called a race since Borrowdale Park in 2009, a breathlessly excited Essop 'Smiley' Moosa told the Sporting Post that he is ' more excited than my fans'.
"I am so happy to be given the opportunity. Clyde Basel and I always had a wonderful relationship and it's thanks to him that I will be back in the commentary box for race 3 and 4 on Sunday. I don't think I will sleep on Saturday evening!"
Smiley left the game on an unhappy note but he doesn't want to talk about that as he gears himself up for an emotional return to the big time.
He played soccer during the apartheid era, when the various football leagues were segregated by race. His father somehow came into contact with a passport stating that he was white. So, in 1970, Smiley pretended his name was Arthur Williams and played in the white league for Berea Park.
The non-white section of the crowd used to scream "Smiley!" when they watched him play, but his real name was Essop. He would play for Berea Park in the week and for Sundowns (now Mamelodi Sundowns), on a much-neglected field, on the weekend.
Smiley was pale enough to pass as a white person, but his passport said he was Indian. His mother was coloured, and, because of the Group Separation Act, they lived on the other side of Pretoria, so he used to play soccer in the black league.
According to Smiley, "the situation of ours was almost laughable".
It is incredible that his answer to the apartheid system was to use his thriftiness and skill to play football in the Indian, coloured, white, and black leagues.
Even though it was his brother Zane who represented South Africa, Smiley maintains he was the better player.
"I scored more goals, and my dribbling was good, but less for the gallery than his."
‹ Previous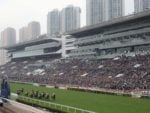 SA Jockeys For Hong Kong