While there is some uncertainty as to the racemeeting going ahead in view of possible strike action, here are the first-timer and rested horses comments for the Vaal today.
2 13:20 – VODACOM DURBAN JULY R13M P6 POOL JUVENILE PLATE
2 LETHAL WEAPON D Sham: Coming back after a break, working well
8 WHAT A CAPTAIN M F De Kock: No comment given

3 13:55 – TAB PAYS THE FULL DIVIDEND, NO LIMITS JUVENILE PLATE (Fillies)
3 MISS KHALIFA T Spies: Very good filly, should be green but expecting a good run.
5 BURINDI S J Gray: No comment given
4 14:30 – BETTING WORLD – 087 741 2777 MR 72 HANDICAP
1 SEVENTH OF JUNE (AUS) P A Peter: Working well could be a bit short
6 MARCUS ATTILIUS R R Magner: Had a virus but now fine. In good shape
5 15:05 – SUPABETS – 0861 76 22 37 MR 84 HANDICAP
9 LAUREN OF ROCHELLE C Binda: Will need the run
7 16:15 – PLAY TAB SPECIAL 4 BETS SOCCER WORLD CUP MR 80 HANDICAP
12 RAGING FLAME M/A Azzie: No comment.
8 16:50 – NEXT VAAL RACEMEETING TUESDAY 26 JUNE MAIDEN PLATE
7 LEVENDI M/A Azzie: Will need the run.
10 MOSTABSHIR S G Tarry: No comment given
-Thanks to Phumelela Publishing
‹ Previous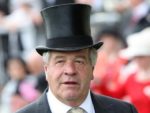 Royal Stoute!