Tellytrack are affording all viewers a free day of live streaming on a jam-packed Saturday 2 June.
This freebie will be available from 10h00 to 22h00.
In a positive initiative, Tellytrack CEO Rob Scott says he will be opening up the facility to all viewers, as he realises that individuals have preferences.
"It's a particularly busy day. Besides a few other overseas venues, we start with Mauritius in the morning, have the Daily News at Greyville, the Epsom Derby and even the Gr2 OK Grand Challenge from Borrowdale. That's a lot of varied racing with inevitable overlaps. I realise there are personal choices. So if a viewer would prefer the live feed all afternoon from Greyville for instance, that will be available. Naturally we are hoping at the same time that users will appreciate the benefits of Tellytrack.com and consider signing up for our services!"
Please click on to www.tellytrack.com and follow the 'live racing' icon on the header of the page.
Remember, it's from 10h00 to 22h00!
The Tellytrack Premium Monthly Package costs R79.95 and provides a range of services from live streaming, live audio and race replays.

‹ Previous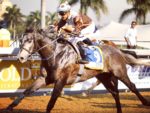 Absent Van Niekerk Suspended