The final field for the 2018 renewal of the R4,25 million Gr1 Vodacom Durban July was announced at Greyville on Tuesday afternoon.
The line-up of eighteen runners plus two reserves sees the country's leading yards of Justin Snaith (5) and Sean Tarry (3) fielding eight runners between them. The 3yo's dominate with eight representing  that age group.
Justin Snaith will fancy his chances of winning the race for a third time with a powerful quintet that is headed by current favourite and Cup Trial winner African Night Sky, as well as the progressive Made To Conquer, who will be partnered by Jeff Lloyd.
Sean Tarry is also looking for his third July win and his recently gelded Tilbury Fort, runner-up to Mike de Kock's Yakeen – who also makes the cut – in the Jubilee Handicap, will have many supporters.
Premier's Champions Challenge winner Coral Fever will carry top weight, while Geoff Woodruff's SA Oaks winner Secret Potion carrying 52kgs at the other end of the scale.
There are bound to be a few hard-luck stories.
Paul Peter's Gr2 Gerald Rosenberg Stakes winner Sabina's Dynasty looks a tad unlucky not to have squeaked in.
As does Dean Kannemeyer's 3yo Gr1 winner and Saturday's facile Derby winner It's My Turn.
The Christmas Handicap winner Roy Had Enough is another horse with reasonable form in Gr1 company at his last three starts.
The possible lucky horse has to be Paul Lafferty's Dark Moon Rising (rated 101), a four-time winner of an MR90 Handicap at best. He is in good recent form and did finish close up in the Sledgehammer and the Greyville 1900 – but is that better than the three feature winners?
The field:
Sc#
Draw
Horse
Mass
MR
Draw
B A T
Jockey
Trainer
1
CORAL FEVER
60,00
118
4
B A
M Yeni
Robbie Sage
2
GOLD STANDARD
59,50
117
6
B A
C Zackey
Glen Kotzen
3
ABASHIRI
58,50
115
2
A
P Strydom
M G Azzie/A A Azzie
4
AFRICAN NIGHT SKY
57,00
112
10
A
……………
Justin Snaith
5
ELUSIVE SILVA
56,50
111
14
A
B Fayd'Herbe
Justin Snaith
6
LIEGE
56,00
110
18
A T
……………
Sean Tarry
7
STAR EXPRESS
55,50
109
9
A
A Domeyer
Justin Snaith
8
DO IT AGAIN
54,00
110
16
A
……………
Justin Snaith
9
MAJESTIC MAMBO
54,00
110
19
A
……………
Paul Peter
10
MATADOR MAN
53,50
105
15
B A
……………
Sean Tarry
11
FIORELLA
53,00
108
8
A
M Khan
Duncan Howells
12
WHITE RIVER
53,00
108
13
A
C Orffer
Brett Crawford
13
TILBURY FORT
53,00
103
20
A T
……………
Sean Tarry
14
YAKEEN
53,00
103
7
A
R Simons
Mike de Kock
15
MADE TO CONQUER
53,00
102
12
A
J Lloyd
Justin Snaith
16
ROCKET COUNTDOWN
53,00
102
5
A
……………
Candice Bass-Robinson
17
DARK MOON RISING
53,00
101
3
A
W Kennedy
Paul Lafferty
18
SECRET POTION
52,00
102
11
A
M V'Rensburg
Geoff Woodruff
Reserve Runners
19
PACK LEADER
53,00
106
17
A
Reserve 1
Glen Kotzen
20
CROWD PLEASER
53,00
102
1
A
Reserve 2
J A Janse van Vuuren
‹ Previous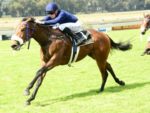 R2,2 Million Tops At Super Sale