A stint in the swimming pool may not be a big event for most, but it is a significant milestone for Anthony Delpech who is working his way determinedly back to recovery.
SA's three time National Champion Jockey title holder had worked his way to a comfortable lead on the SA Jockey log and looked on track for a fourth championship, when he took a fall from Majestic Mambo in the 2018 SA Classic at Turffontein on 7 April. A little over 15 weeks since the accident, Anthony had his first swimming session on Wednesday, 25 July and came out beaming.
Enforced Break
Having spent the best part of 30 years more or less constantly on the move, this is the longest Anthony has spent out of the saddle in his career. While his enforced break from riding has been difficult, learning to take things easy while his body recovers from his neck surgery has been a bigger challenge still as options that won't impact his neck are fairly limited. "The difficult part is the boredom," he acknowledges. "That's the hardest part. I love golf, but can't play. I've got a gym at home and I've started to cycle, walk on the treadmill and do some light weights that won't affect my neck, but Wednesday was my first day swimming and I was really excited that it went well – now I've got another exercise option," he enthused.
Progress
Anthony was feeling well enough to return to the racecourse for the first time since his accident, joining the Super Sport team at Greyville for their coverage of July day 2018. "It was a bit nerve-wracking – I wasn't sure I'd be able to face it, but doing the TV show was good – I enjoyed it," he says cheerfully. Did he enjoy being back? "It was good. A lot of guys missed me, especially the punters!" he jokes, "but I think a lot of people were thankful to see me – a lot of people didn't realise I'm up and about and thought I was still in a bed, so it was good to show them I'm doing well."
In the meantime, Anthony continues to focus on his recovery with the help of two sessions of occupational therapy and two sessions of physiotherapy a week. "There is still nerve pain in my arm and hands, so working on the strength in my hands is the most important at the moment," he explains. "But I'll be seeing the specialist again on the 7th of August and then we'll have more of an idea of where we stand."
We wish him all the best.
‹ Previous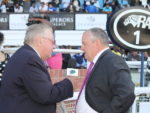 De Kock To Rock?