Did the PE Stipendiary Stewards fail horseracing at Fairview on Friday? And when do ego's and rules override good plain common sense?
Lyle Hewitson's injury in the Fairview first on Friday led to a scramble to find suitable replacement jockeys.
The Sporting Post has learnt that a decision to allow the Yvette Bremner stable to utilise jockey Ryan Munger to ride their 14-10 favourite Elle Est Noire in the final race, and thus scratch Munger's originally carded mount, the Bremner stablemate 32 week rested Astisia (with the owner's permission), was later vetoed by the Chairman of Stipes.
The owners had made a specific request and were expecting a big run of impressive debut winner, Elle Est Noire.
They were apparently not happy with the only available other rider on the day and were thus, in the light of the turnabout on the part of the Stipes, given little option but to withdraw their strongly fancied filly.
The procrastination and uncertainty by the Stipes led to the betting public only being informed later – and after the first leg of the Pick 6 had been run – that Elle Est Noire was scratched. And more unhappy owners – like racing needs that!
The eventual tote favourite in the final leg of the Pick 6 ran second.
The Stipes on duty were:
Mr T Khanyile (Chief Stipendiary Steward)
Ms J Keevy (Stipendiary Steward)
Mr M Jones (called out of retirement)
Punters lost. The owners lost. Racing lost.
Is this how it's supposed to work – and who takes responsibility?
Ed – The Official Stipes Report is awaited
‹ Previous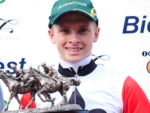 Lyle Hewitson Injury Update