Still relatively young men, South African riders Grant van Niekerk and Callan Murray will feel the big-stage pressure when they take up their Hong Kong contracts in the new season.

The total turnover on a weekend meeting at Sha Tin regularly breaks the HK$1.5 billion (US$200 million) barrier, while the midweek card at Happy Valley sees about HK$1.2 billion churning through the tote.
Both will be dreaming of walking in the footsteps of three-time champion Joao Moreira, who was an immediate hit when he moved from Singapore to Sha Tin in October 2013, capturing nearly every major race and winning the past three jockeys' championships.
Moreira, who is 4 wins behind Zac Purton as we head into the final event of the Hong Kong Season on Sunday, looks set to hand the trophy over to his Australian counterpart this term.
With Purton successful in the event of an overall tie, having ridden nine more second-placed finishers than Moreira, the equation heading into the 11-race Season Finale at Sha Tin sees Moreira needing to ride 5 more winners than Purton if he is to pull off an improbable victory.
Moreira is set to become the Japan Racing Association's third full-time foreign rider.
He is already incredibly popular in Japan by virtue of his highly successful off-season stints and big race wins aboard the country's powerful horses, taking Gr1's in Hong Kong and Dubai.
To be licensed as a full-time JRA jockey, foreigners must pass two tests, firstly a written exam quizzing applicants on everything from rules, regulations, statistics and history of Japanese racing, and, if successful, then pass an interview with JRA officials to test Japanese language proficiency.
Moreira has been studying Japanese for close on two years.
‹ Previous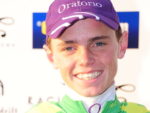 Murray Won't Ride Again This Term