Trainers and jockeys were forced to roll up their sleeves and do some mucking out today as simmering discontent countrywide amongst Grooms spread to Kwazulu-Natal with protest action at Summerveld and Ashburton.
While reports are sketchy, the entrance to Summerveld Training Centre was barricaded from the early hours today. No reports of violence could be confirmed.
Ashburton trainers have reportedly already met a deputation of Grooms and another meeting is scheduled for 14h00 today.
Randjesfontein in Gauteng province was the focal point of Grooms strike action and protests which turned ugly last month.
Cape training yards have recently received visits by officials of the Department Of Labour who are inspecting conditions and focussing on general compliance in respect of Health & Safety aspects, as well as the payment of UIF and Workmen's Compensation.
With Africa's Greatest Horseracing event, the Vodacom Durban July, being run on Saturday, the protest action comes at a sensitive time for the industry.
International visitors and a bumper crowd of close on 50 000 is expected at Greyville.
‹ Previous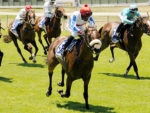 Marcus' Gyre Is In Good Form