Well-related 4kg claiming apprentice Luke Ferraris came within a heartbeat of riding the jackpot at Turffontein on Saturday, when he rounded off a hat-trick of winners on O Lucky Man for Sean Tarry in the eighth race to post his 21st career victory.
Luke started his great run by steering Jet Start to a runaway victory in the fifth.
He then booted Autumn Rain home to give his Grandfather trainer Ormond a nice double – Autumn Rain races in the silks of Luke's trainer Dad, David.
Thswaro Appie crashed the Ferraris party in the seventh when he got the ironically named Make Me Happy home for Mike de Kock.
O Lucky Man rounded off the final leg of the jackpot.
Ferraris caught the public attention at the Vaal on Tuesday 24 April this year when he opened his career account with a double – both winners were trained by his Grandfather Ormond.
On Derby Day at Scottsville last month, Luke won on Shukamisa in the familiar white and blue of the Dimakogiannis family (the same silks as he wore on Jet Start on Saturday!) and rounded off on Autumn Rain, trained by his Granddad Ormond in the final event of the day – in his Dad's white and orange silks. At the time it was suggested that the feat of the three generation involvement in a winner may well been an historic achievement.
On Saturday, a racing expert suggested in an observation to the Sporting Post that the Tellytrack presenters and commentators needed to consider tempering their waxing lyrical and suggestions of 'riding at the top of his game'. He said that the 16 year old 'is claiming 4kgs for goodness sake – he just needs to stay on mostly. How does a 4kg claimer ride at the top of his game?'
Whether one shares that sobering view, a glance down the apprentice national suggests many apprentices haven't exactly cruised through their 4kg claims. Some have a 1% strike – rate. So a 4kg discount is no automatic passport to the winner's enclosure – and it helps to have the talent and the support from the trainers.
The jackpot near miss is also worthy of praise.
In December 2017, Apprentice Denis Schwarz became only the third apprentice after Athandiwe Mgudlwa and Michael Roberts to ride the jackpot when he booted home four winners at Greyville.
Mgudlwa rode the Jackpot at Scottsville in 2011 – 40 years after the legend Michael Roberts had achieved the same feat.
‹ Previous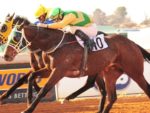 Northern Cape Racing Festival