Nathan Klink is the latest SA Jockey Academy apprentice to break his duck, posting the first win of his career at Flamingo Park on 16 July 2018 for the Bill Human stable.
His winning opportunity came aboard the 3yo Nico's Chick in the silks of owner-breeder Nico van Niekerk in race 5, a 1800m FM 66 Handicap.
An understandably excited Nathan was still on cloud nine when we managed to catch up with him after his milestone.
Red Letter Day
Asked whether he'd been expecting a good day at the office, Nathan admits it had come as a pleasant surprise. "When I called for rides for Kimberley, I started out with 4 and ended up with a card of 6 rides at the end of the day. It was only my second time riding at Kimberley and I wasn't expecting to have a winner yet," he says modestly.
"When I went into the parade ring to receive my instructions from Mr Zietsman, he asked me if I'd ridden any winners yet and I said no. I don't know whether he was joking, but he said this was going to be my first. I didn't want to get my hopes up though, so just took it as another ride."
He says the filly gave him a nice feel on the canter down and he thinks she enjoyed the step up in trip.
"The race didn't quite go according to plan, but when we got into the straight, she quickened well. It still took me a while to get to the front, but at the end of the day I made it!"
Nico's Chick won by a decisive 2.75 lengths in a time of 115.21 seconds.
Congratulations
Was there a lot of post race fuss? "Back in parade ring Mr Zietsman was shaking when I came back – he was so, so happy. It was my first time doing an interview and I have to thank my riding master, Mr Moore and my family back home for all the help and support."
Being from the Western Cape, Nathan didn't have any family on course, but they did shout him home on TV. "I told them I had six rides at Kimberley, so they were all watching. As soon as the day ended and I switched on my phone, I got all their messages. They were all very happy, especially my gran. She's been watching me since day one and kept telling me, 'Don't stress, you're going to win soon. So yesterday was the day!" he grins.
"Back in the jockey room, the jockeys were all happy for me and said well done on my first winner and I had a call from my Academy riding masters on the way home as well to say congratulations."
Nathan says he has ordered his winning photos to mark the occasion. "Mr van Niekerk was also over the moon. He said Mr Zietsman should give me the colours I won in so that I can remember it forever," he chuckles.
However, for the most part, the likeable young rider was at a loss to describe his first taste of victory, saying simply, "I'm still over the moon."
Looking ahead, Nathan's immediate focus is on this coming Saturday, when he'll be riding Llandudno for the Michael and Adam Azzie yard at Turffontein and then he will be concentrating on getting more rides and a few more winners under his belt.
We wish him every success.
‹ Previous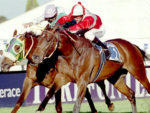 SA Racing – Restructure On The Cards