The catalogue for the 2018 National Two Year Old Sale is now available for viewing online at www.bsa.co.za
This year's auction will take place at the TBA complex in Germiston and will be held on August 16th and 17th – with trading due to commence at 11h00 both days.
Traditionally one of South Africa's best value for money sales, the National Two Year Old Sale has a long and proud history, comprising some exceptional performers.
Among the stellar performers sold off this sale are multiple Gr1 winning young sires Jackson and The Apache, outstanding sprinter J J The Jet Plane, Singapore champion Lizarre, Gr1 QE II Cup winner Irridescence, New Zealand Gr1 heroine Dane Julia, and local Gr1 winners/champions Arabian Beat, Asylum Seeker, Fez, Rock Opera, and tough as teak Gr1 J&B Met winner River Jetez.
Recent Gr1 winners sold off the Two Year Old Sale include the exported Cape Guineas winner Noah From Goa and Equus Champion Bela-Bela.
The majority of South Africa's top breeders are represented at this year's sale, which also includes lots by outstanding stallions Captain Al, Dynasty, Gimmethegreenlight, Querari, Silvano, Trippi, Twice Over, and Var.
Galileo's outstanding son Nathaniel, sire of Horse Of The Year and five time Gr1 winner Enable, is also represented by a colt (Lot 304) by the name of Rain In England (whose dam is a half-sister to champion Dancer's Daughter) at the auction, while another outstanding international sire represented at this year's sale is seven time Gr1 winner and Horse Of The Year Rock Of Gibraltar.
A stallion with more than 100 stakes winners to his name, Rock Of Gibraltar will be represented by both a colt (Lot 386) and filly (Lot 53) at the National Two Year Old Sale.
His filly is from the same family as Breeders' Cup Mile hero Tourist, while the Rock Of Gibraltar colt on offer is from the same family as champions El Gran Senor and Try My Best, and their full brother Northern Guest – a multiple champion sire/broodmare sire in South Africa.
Sires represented by their first local crop of two-year-olds at the National Two Year Old Sale include Capetown Noir, Captain Of All, Divine Jet, Flower Alley, Kingsbarns, Linngari, Soft Falling Rain, Time Thief, Vercingetorix and Wylie Hall.
Potential star lots on the sale include:
Lot 6 –a Duke Of Marmalade half-brother to Irridescence Stakes winner Rose In Bloom
Lot 9 –a Judpot half-brother to the dam of G1 winner Bold Respect
Lot 11 –a Silvano colt out of a half-sister to G1 winner Blueridge Mountain
Lot 14 –a Silvano filly out of four time stakes winner Rivulet
Lot 15 –a What A Winter half-sister to G3 winner Punk Rocker
Lot 27 –a Silvano colt whose dam is out of Irish G1 winner Necklace
Lot 28 –a Querari colt out of a stakes winning daughter of Jet Master
Lot 30 –a Dynasty filly out of a 3 time stakes winner
Lot 37 –a Pathfork half-sister to top sprinter Sweet Sanette and G3 winners Dark Justice and Franny
Lot 52 –a Silvano ½ sister to Cape Nursery winner Brilliant Cut
Lot 64 –a Master Of My Fate ¾ brother to 4 time stakes winner Princess Ofthe Sky
Lot 66 –a Var colt out of a daughter of champion Scented Royal
Lot 73 –an Oratorio half-brother to the very talented Talk Of The Town
Lot 82 –a Silvano colt out of G2 Camellia Stakes winner Surabi
Lot 89 –a Dynasty filly out of a stakes winning Lomitas mare
Lot 106 –an Oratorio half-brother to G3 Starling Stakes winner She's A Giver
Lot 115 –a Silvano colt out of G2 winning 2yo Waywest Goddess
Lot 131 –a Jackson filly out of a stakes winning daughter of Var
Lot 134 –a full-brother to this season's top class stakes winner Madame Speaker
Lot 144 –a Master Of My Fate ¾ brother to G1 winner Little Miss Magic (dam of Lanzerac Ready To Run Stakes winner Miss Katalin)
Lot 145 –a Flower Alley half-sister to Broadway Trip
Lot 159 –a Flower Alley colt out of G1 SA Fillies Classic winner Athina
Lot 160 –a Crusade half-brother to 2yo stakes winner Carlita
Lot 164 –a Silvano half-brother to 2yo stakes winner Lesedi La Rona
Lot 175 –a Querari half-brother to G2 Betting World 1900 hero Solid Speed
Lot 211 –a What A Winter half-sister to speedy stakes winner Hanabi
Lot 237 –a Duke Of Marmalade colt out of G3 winner Enchanted Kingdom
Lot 238 –a Wylie Hall half-sister to champion Laverna
Lot 243 –a Duke Of Marmalade colt out of SA Nursery second Evening Attire
Lot 245 –a Gimmethegreenlight filly out of G1 winner Fair Maiden
Lot 255- an Ideal World half-sister to KZN Yearling Sale Million winner Givinitsum
Lot 292 –a Vercingetorix ¾ sister to Equus Champion Hot Ticket
Lot 302 –a Soft Falling Rain filly out of Equus Champion Icy Air
Lot 309-an Ideal World half-brother to this season's Golden Slipper winner Celtic Sea
Lot 312 –a Silvano ¾ brother to champion and promising sire Vercingetorix
Lot 355 –a Twice Over half-brother to Wolf Power Hcp winner Arctica
Lot 391 –a Gimmethegreenlight half-sister to stakes winner Comebackanddance
Lot 395 –a Gimmethegreenlight half-sister to G3 winner Money Spider
Lot 396 –a Vercingetorix half-sister to exported Jubilee Handicap hero Eton Square
Lot 399 –a Dynasty brother to G3 Flamboyant Stakes winner Hashtagyolo
Lot 401 –a Dynasty half-brother to stakes winner Lochlorien
Lot 425 –a Twice Over colt out of G3 winner Passive Resistance
Lot 429 –a Flower Alley half-brother to Merchants winner Triptique
Lot 435 –a Gimmethegreenlight brother to G3 winner Green Pepper
‹ Previous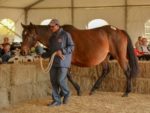 End Of An Era