The National Horseracing Authority confirms that at an Inquiry held in Cape Town on 29 June 2018, The Alchemy Stud was charged with a contravention of Rule 72.1.10.

The particulars of the charge being that The Alchemy Stud, a registered Breeder, with the responsible, accountable and authorised person being Mr Phillip Kahan, was charged with a contravention of Rule 72.1.10 in that when inspections were conducted at The Alchemy Stud Farms on 29 January 2018 and 9 May 2018, certain mares and foals were found to be in an unacceptable condition.
Mr Kahan on behalf of The Alchemy Stud pleaded guilty and was found guilty as charged.
The Inquiry Board having considered all of the evidence before it and the submissions tendered in mitigation and aggravation imposed a penalty of:-
–              A cancellation of the privilege of The Alchemy Stud, this cancellation is wholly suspended for a period of two years on condition that the Stud is not found guilty of a contravention of Rule 72.1.10 during this period; and
–              A fine of R60,000; and
–              The NHA will conduct random inspections of The Alchemy Stud to ensure compliance with the aforementioned Rule.
The Alchemy Stud has the Right of Appeal in terms of Rule 85.
Both parties were legally represented.
‹ Previous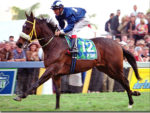 July Day Pick 6 Countdown