Cape-based jockey Grant van Niekerk, who takes up a contract in Hong Kong next season, says that his mount had already clipped heels twice and that he really had no alternative but to take the favourite African Night Sky up to lead in Saturday's Vodacom Durban July.
"He is a top horse and has an exceptional turn of foot off a pace," the 27 year old Van Niekerk told the Sporting Post in an exclusive interview after returning to Cape Town following one of the biggest disappointments in his ten year long career to date.
"I always had concerns about the lack of pace and it turned into an absolute joke for the first half of the race. Nobody was willing to commit. African Night Sky likes to relax when they go at a reasonable clip. He was fighting me. He simply never settled. My arms were burning. I almost came down after clipping heels twice. I made the only decision I could at the time – which was to go around them and take it up and get him to relax."
Van Niekerk says that had he stayed where he was, he could have endangered other horses and African Night Sky would have simply used up all of his energy reserves and fallen in a hole.
And then he would have probably been castigated for not using his initiative!
"I hung on to him for 800m. We were going absolutely nowhere fast. I considered going around.  Then held on. I considered it again. And held on. It was no split second rush of blood in the end. I did what I did with forethought to give my horse the only chance I believed he would have, in what was developing into an awful race. I thought I would let him settle and bowl and make the most of a bad situation – and then go for home. But my stablemate Made To Conquer challenged and went with me. So he stretched me further. In the end African Night Sky ran his heart out to finish fifth. Had he won I would have been a hero. But that's racing. We learn to take the rough with the smooth."
Van Niekerk said that he had also learnt in a short time in the saddle to accept constructive criticism but not to let illogical things get to him.
"He was the favourite in one of our great races. There was a weight of public money on him. I was riding for a top stable. For a top owner. Every jockey in the race wanted to stand where Anton Marcus stood afterwards. The massive prestige. The huge stake. My family were all rooting for me. If anybody suggests there was skulduggery, then that is not even worth responding to,"he said.
He added that he felt that he was on the likely winner had there been a true pace.
"Mr Fred Crabbia and the Snaiths were disappointed afterwards. I really felt so down for us all,"he said.
Grant flies out with Callan Murray on 4 August for a new adventure in Hong Kong.
We asked if he was nervous about riding abroad.
"I am more excited than nervous. This is an important step in my career. I need to work hard and apply myself," he said, confirming that his partner and two young children would be following him later.
Ed – The Stipes Reported:
In a slow run race CORAL FEVER (M Yeni), MATADOR MAN (S Khumalo), YAKEEN (AUS) (R Simons) and AFRICAN NIGHT SKY (G van Niekerk) were pulling hard and were difficult to restrain and AFRICAN NIGHT SKY (G van Niekerk) raced to the front of the field approaching the 1000 metre mark
‹ Previous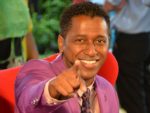 July Tote Turnovers Under Pressure